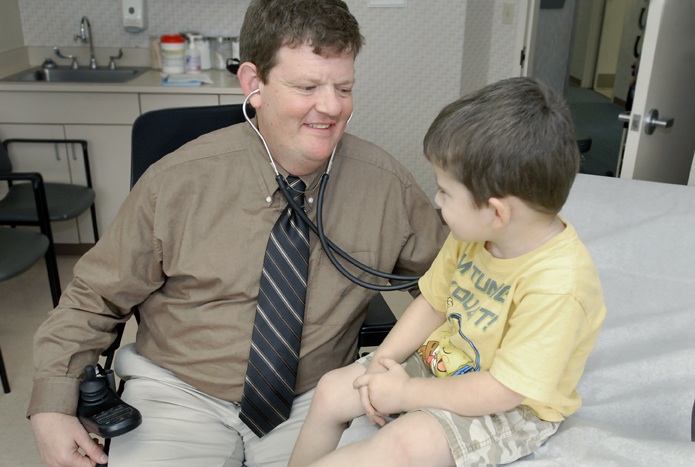 With the help of a high-tech power wheelchair, Hattiesburg pediatrician John Gaudet can continue his hands-on style with patients. The wheelchair allows him to sit or stand, so he is always at the right height to interact with Children's Medical Group patients like 4-year-old Chaz Welborn of Laurel.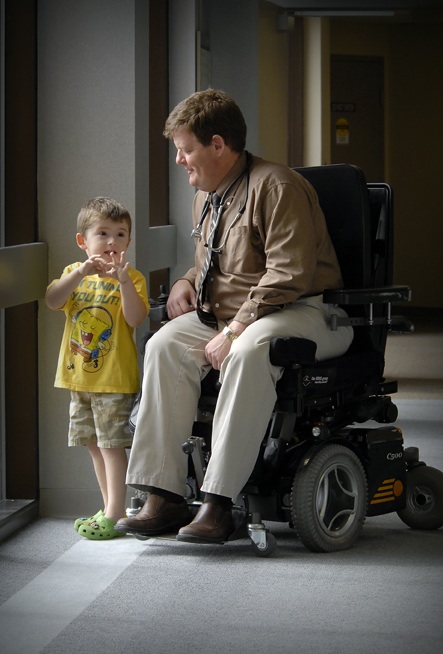 Hattiesburg pediatrician John Gaudet and 4-year-old Chaz Welborn of Laurel share the spotlight in the MRC Now I Can campaign. Through a series of posters, the campaign highlights the achievements of former Methodist Rehab patients like Gaudet.
Hattiesburg pediatrician John Gaudet likes to get up close and personal with his young patients.
So when muscular dystrophy began to hamper his hands-on style, he sought help from the Assistive Technology (AT) Clinic at Methodist Rehabilitation Center in Jackson.
Clinic staff looked at Gaudet's health and lifestyle needs, and custom-fit the active physician with a standing power wheelchair. Now he can rise high to reach babies in hospital bassinets or go low to capture wiggly toddlers at his Children¹s Medical Group office.
"It gives me more flexibility – it's liberating," he says. "I really wouldn¹t be able to do my job efficiently without it."
Gaudet's success with his high-tech wheelchair has earned him a role in Methodist Rehab's Now I Can campaign. Through a series of posters, the campaign highlights the achievements of former Methodist Rehab patients.
"The posters are prominently displayed on our second floor, and we did that for a reason," says Mark Adams, chief executive officer of the Jackson hospital. "We believe it helps new patients realize that recovery is within reach."
Gaudet's poster shows him doing his job from a sitting and standing position. It's an image that helps others understand the versatility of today's assistive technology, says physical therapist Allison Fracchia, coordinator of Methodist Rehab's AT Clinic.
"People who are new to the wheelchair market often have no idea how many innovations have been introduced in the last 10 years," says Fracchia, one of but a few certified assistive technology practitioners in the state. "I feel like one of my responsibilities is to educate people about the options and discuss the pros and cons."
Gaudet says he initially resisted using a wheelchair, even though the progression of his disease had affected his strength and endurance. Instead, he used a motorized scooter for long distances. Then a sprained ankle forced him to borrow a wheelchair for a few days, and he had an epiphany. "It was like: Hey, I'm doing more now than before I got injured. It expanded my abilities," he says.
When he first began conferring with Fracchia, Gaudet had set his sights on an iBOT Mobility System, a power wheelchair that is no longer manufactured. The iBOT was best known for being able to climb stairs, but Gaudet was most interested in its ability to raise users to eye-level height while they were still seated.
Gaudet figured the feature would help him navigate hospital nurseries, where bassinets and counter heights can be out of reach for wheelchair users. But Fracchia had some reservations. "The iBOT works with gyroscopes and is dependent on your center of gravity," she says. "If you lean forward in an iBOT, the chair itself also rides forward."
When Gaudet realized he would be crashing into an exam table every time he bent over to examine a patient, he began working with Fracchia to find a wheelchair that was a better fit.
As she does with all her clients, Fracchia began an in-depth analysis of Gaudet's physical abilities, medical issues and his work and home environment. It soon became clear that a standing wheelchair would help him on several fronts.
For instance, he can now avoid leaning forward while seated, a position that left him breathless due to nerve damage in his diaphragm. The standing feature also affords better access to his patients and puts him eye to eye with parents. He also has gotten his wish to address lecture audiences standing up.
Fracchia said people who use standing wheelchairs also reap some wellness benefits from being weight-bearing a portion of the day. Being upright helps slow the loss of bone density, promotes more normal kidney and bladder function, reduces spasticity and prevents pressure sores.
Gaudet says Fracchia's expertise proved invaluable throughout the evaluation process. "One of her many strengths was assisting with the insurance," Gaudet says. "She had to write a lengthy certificate of medical necessity, and she was fastidious in her attention to detail."
Nowadays, Gaudet can get just about anywhere he needs with a simple flick of a joystick – and don't think his young patients haven't noticed. They're blatantly curious about his wheelchair, and Gaudet encourages their interest.
"They may play with the flashers or horn, and their parents sometimes snap at them," he says. "But I reassure them and encourage the kids to plunder a bit."
Gaudet says parents also get a bit uncomfortable when their children blurt out questions. "The kids will ask: 'Why do you need that?' or 'You can't walk?' I quickly jump in and give a straightforward and age-appropriate answer like 'I have muscular dystrophy. I can walk a little bit, but I use a power chair most of the time so I can be faster.'
"I don't want kids to associate chairs with trouble," he adds. "Sometimes I even give rides to the check-out window."
For more information on Methodist Rehab's Assistive Technology Clinic, call 601-364-3533. For more information on the hospital's Now I Can campaign, visit methodistonline.org/nowican.