Health and Research News Service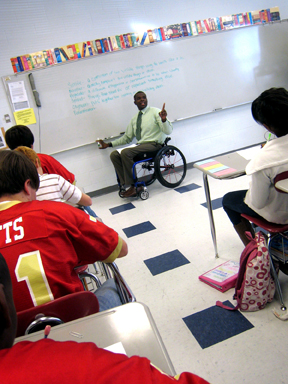 While he is teaching English to ninth- and 10th-graders at Lafayette High School in Oxford, Jay Levy hopes to impart a lesson about the importance of developing safe driving habits and the value of perseverance. Levy says he has learned even the hardest experiences in life can become something positive.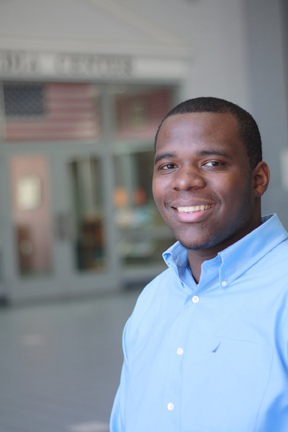 Lafayette High School teacher Daisy Bullard says she is happy that Jay Levy is spending his senior year as her student teacher because he has been a living example of what it means to overcome adversity and to follow through on what you started.
When Jay Levy tells high school students to slow down, buckle up and take care on the road, he's speaking from a seat of authority — his wheelchair.
The 21-year-old senior at the University of Mississippi sustained a spinal cord injury in a February 2009 car accident while speeding back to school from his hometown of Madison.
Now, as a secondary education major and a student teacher at Lafayette High School in Oxford, he's a living testament to the message he hopes to convey.
"I've always wanted to be a teacher, but since my accident, I have a different view of what I want to instill in students," Levy said.
"I want them to know how important it is to drive safely, and I also want them to see that even the hardest experiences in life can become something positive. This situation has given me a new outlook on life. I don't take anything for granted any more."
On the day of his accident, Levy was in a hurry. He'd been working as an assistant manager at the Sonic Drive-In in Oxford, and he needed to get back to take care of a problem at work.
He nearly made it. He had reached Batesville on Interstate 55 when he lost control of his Acura. The car flipped over, its force pitching him out the sunroof and hurling his broken body to the side of the road. He hadn't been wearing his seat belt.
Levy was airlifted to The Med in Memphis, where he underwent initial treatment for a broken right arm, a broken back and other injuries. After two weeks there, he began the process of long-term recovery at Methodist Rehabilitation Center.
"When I first got to Methodist, I was angry," he said. "I had this grim outlook on life."
His therapists' encouragement at first rang hollow against Levy's hopelessness and fears. But as the weeks passed, he was slowly able to share their belief that his life may not be over after all.
"Jay went through the typical stages of grief," said Erin Bischofberger, a physical therapist who worked with Levy at Methodist Rehabilitation Center.
"Our focus was on getting his independence back," she said. "We worked on the physical skills and strength he'd need to get into his wheelchair on his own, to get in and out of bed, and to safely maneuver himself from one place to another. He was fearful of these tasks at first, but he quickly became confident in his abilities."
As his right arm healed, Levy learned how to accomplish everyday tasks in new ways, even trying out a simulator that showed him what it would be like to drive again with the use of a manually controlled vehicle.
"By the time I left, I realized that life would go back to normal," he said. "I just had to learn to do things in a different way."
When he was released from Methodist Rehab that May, Levy had a choice. He could nurse his broken dreams at home, comforted by the care of his supportive mother. Or he could find out whether, just maybe, he might put those dreams back together again. He chose the latter.
That August, Levy returned to Ole Miss and resumed his coursework in the School of Education. He spent that year living on campus, but by August 2010 was ready to live off-campus as he had before the accident. He got an apartment and got back behind the wheel with a modified vehicle that features hand controls.
"I've been slowly putting the pieces of my life back together," he said. "I never thought I would go back to school so soon or live independently so soon. But I've learned that life throws some hard situations at you sometimes, and it's up to you to figure out how to make them better."
That's a big part of the message he's now taking to students in Daisy Bullard's ninth and 10th grade English classes at Lafayette High School. Levy will spend his senior year there as a student teacher.
"I am glad Jay is in the class this year," Bullard said. "I know that he will be a positive role model for my students. He is a living example of what it means to overcome adversity, and to follow through on what you started — even when life is not fair. I hope my students will imitate his example when they face hardships."
Levy tells the students he knows it's out of the ordinary for them to have a teacher in a wheelchair. But he also hopes they take to heart the life lessons to which he's a living testament.
"I used to always think that wearing a seat belt wrinkled your shirt," he said. "If I had worn my seat belt that day, I may not have been confined to a wheelchair. I tell students today, you may not think it's cool to wear a seat belt. But it can save your life."
After his graduation from Ole Miss in May 2011, Levy plans to teach high school English in the central Mississippi area and continue to be an advocate for safe driving and wearing seat belts.
"Life is different, but great nonetheless," he said. "I am truly grateful for the hard work, dedication and support I received from staff at MRC. They helped me to realize that there is life after a spinal-cord injury."