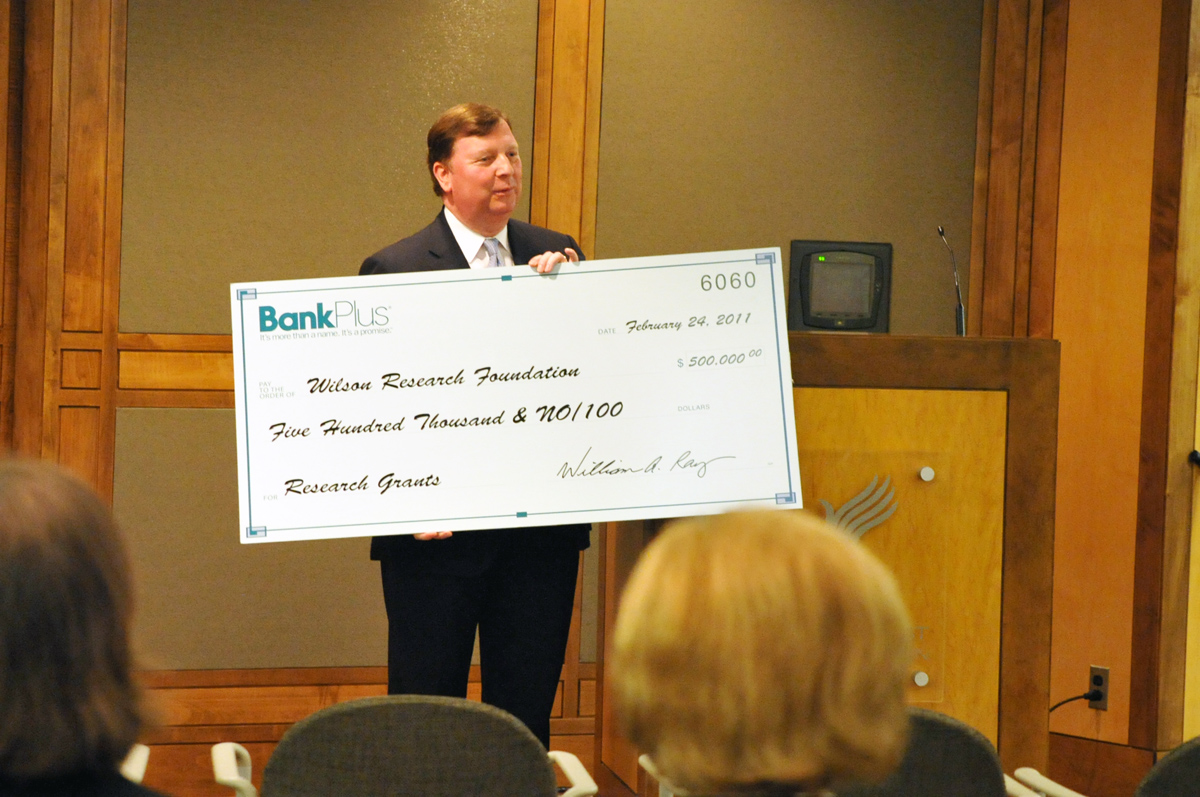 Bill Ray, president and CEO of BankPlus, presents a ceremonial check representing a five-year, $500,000 pledge to the Wilson Research Foundation.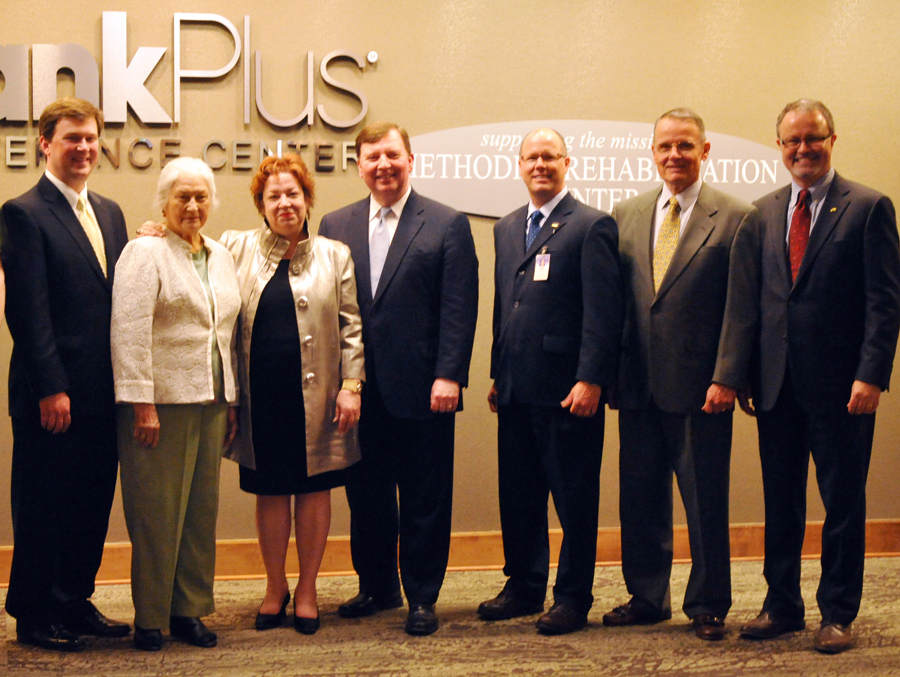 Celebrating the unveiling of the BankPlus Conference Center at Methodist Rehabilitation Center are from left, Wilson Holifield of BankPlus, Martha Wilson, a member of the Wilson Foundation board; Ginny Wilson Mounger, chairman of the Wilson Foundation board; Bill Ray, BankPlus president and CEO; Chris Blount , director of the Wilson Foundation; Dave Robinson, Wilson Foundation secretary-treasurer; and Mark Adams, Methodist Rehab president and CEO.
BankPlus has announced a five-year, $500,000 pledge to the Wilson Research Foundation at Methodist Rehabilitation Center for neuroscience research and technology.
"This gift will fund research to discover innovative treatments for patients who suffer from stroke, brain or spinal cord injury, multiple sclerosis and other disabling injuries or illness," said foundation director Chris Blount. "We deeply appreciate BankPlus for helping establish Methodist Rehab as a center of excellence in clinical care. Their generous gift will also improve rehabilitation medicine globally through publication of our research findings."
The recent check presentation included the unveiling of the BankPlus Conference Center on Methodist Rehab's second floor. BankPlus President and CEO Bill Ray said the bank is proud to be associated with a hospital that is having such a positive impact on the lives of Mississippians.
"We have had so many employees of the bank and their family members come to Methodist Rehab to recover," Ray said. "We know firsthand the dramatic improvements in quality of life patients can realize at Methodist Rehab, and at the core of that is ongoing research to discover better ways for patients to recover ability and hope."
The Wilson Research Foundation is the primary supporter of Methodist Rehab's research program, the Center for Neuroscience and Neurological Recovery. Its goals are to:
• improve diagnoses.
• provide access to innovative therapies.
• refine treatments to meet individual patient needs.
• evaluate emerging therapies.
• provide assistive technology solutions for mobility, computer access and environmental control.
• allow patients to participate in groundbreaking research.
About BankPlus
BankPlus, with total assets of more than $2.2 billion, has over 60 banking offices in 33 Mississippi communities. In addition to its Belzoni Main Office, other BankPlus offices are located in Bentonia, Brandon, Byram, Canton, Clinton, D'Iberville, Durant, Flora, Flowood, Gluckstadt, Hernando, Holly Bluff, Horn Lake, Isola, Jackson, Lexington, Madison, Meridian, Newton, Olive Branch, Pearl, Picayune, Pickens, Poplarville, Quitman, Ridgeland, Shubuta, Southaven, Stonewall, Tchula, Waynesboro and Yazoo City. For additional information on BankPlus, please visit www.BankPlus.net
For more information on the Wilson Research Foundation, call Chris Blount at 601-364-3598.