Methodist Health & Research News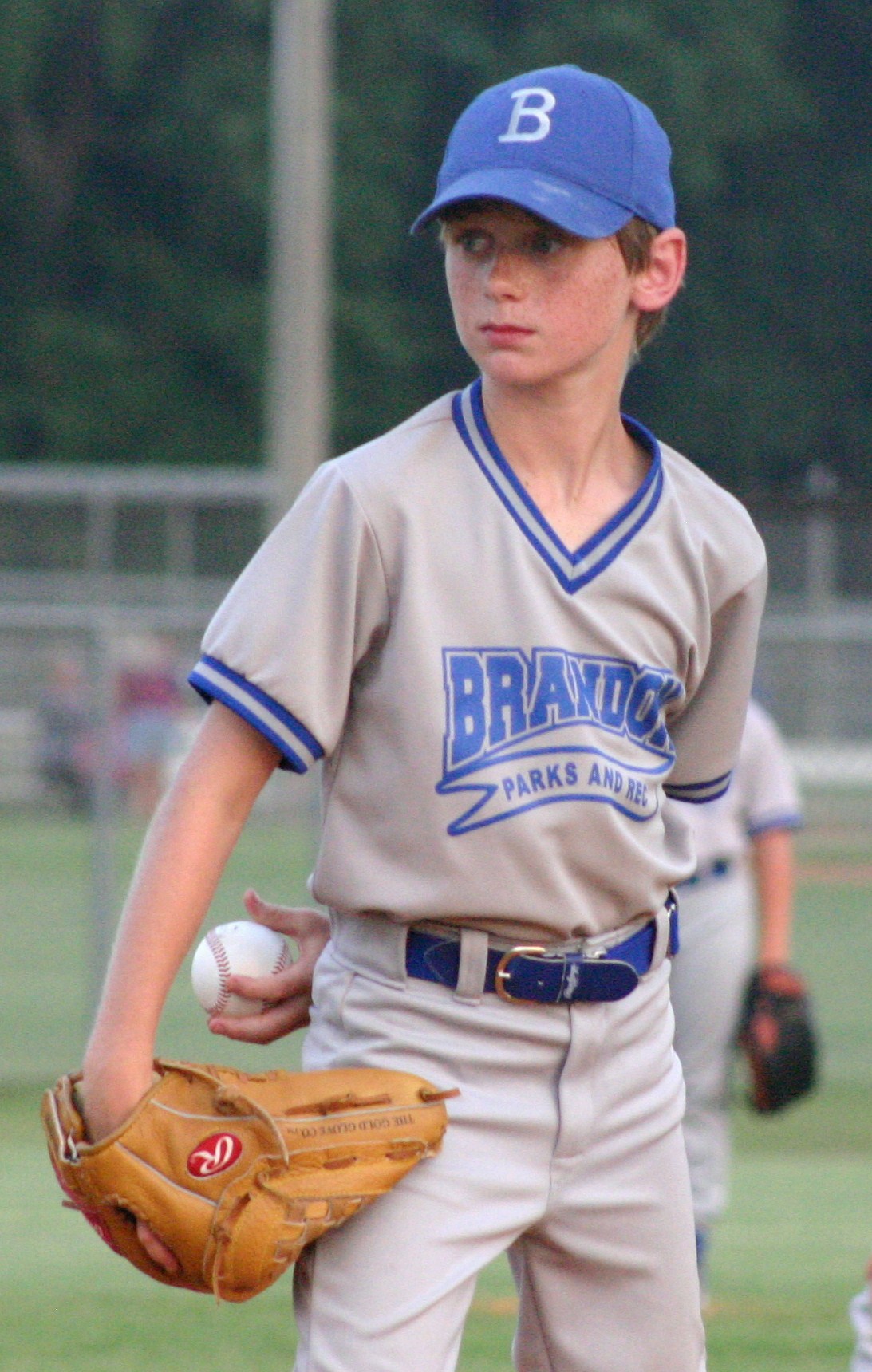 Kaleb Sessions, 12, counts baseball among his three favorite activities. So he was happy to wear some protective head gear if it meant he could get back to pitching.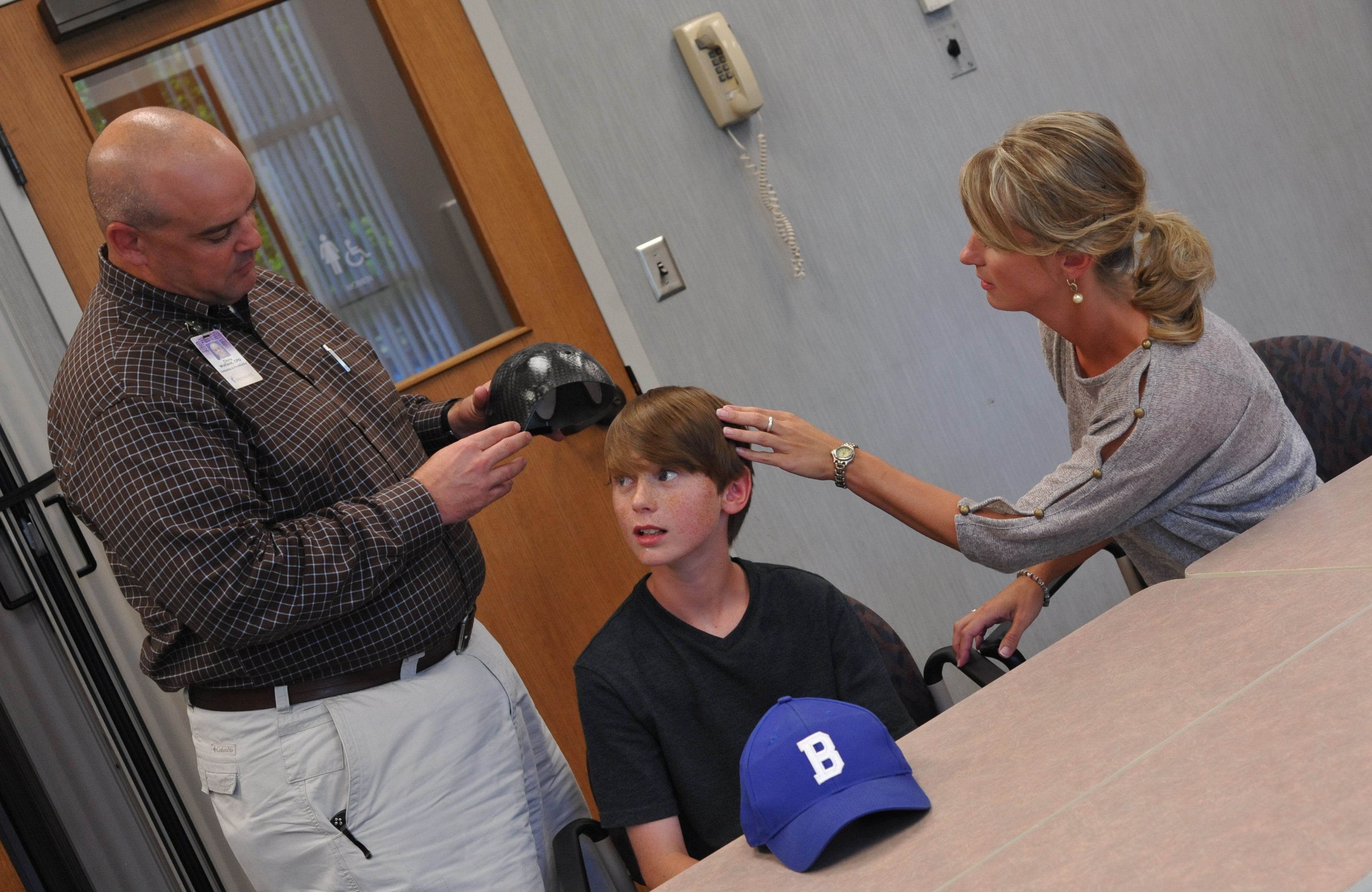 Chris Wallace, director of Methodist Orthotics & Prosthetics in Flowood, shows Kaleb Sessions, center, and his mom, Kristi, the features of a cap liner that Wallace custom designed to protect the young baseball player from line drives to the head. A fall in August left Kaleb with a skull fracture, and his mom wanted to find him some form of added head protection before he took up pitching again. Wallace came up with a carbon fiber liner that can be discreetly tucked inside a baseball cap.
His baseball uniform looks identical to the ones worn by his Brandon Bull Dawgs teammates.
But hidden inside Kaleb Sessions' cap is something special – a one-of-a-kind liner that lessens the impact of line drives to a pitcher's head.
The ingenious safety feature was custom designed at Methodist Orthotics & Prosthetics in Flowood, a division of Methodist Rehabilitation Center in Jackson.
The clinic primarily focuses on building and fitting high-tech artificial limbs and braces. But staff took on the project as a favor to Kaleb's mom, Kristi, a coworker at Methodist Rehab.
"Kristi had a motherly concern for her child, and I wanted to help." said Chris Wallace, director of the Jackson hospital's orthotics and prosthetics division.
Sessions had good reason to be worried about her 12-year-old's safety. In August, Kaleb suffered a skull fracture that hadn't completely healed prior to this baseball season.
"It was truly one of life's freak accidents," Sessions said. "He was shooting hoops in our driveway while I was cooking dinner and he slipped, fell backwards and hit his head. No one was outside to see what exactly happened. But my neighbor noticed him on the ground and told my youngest son to get me because Kaleb was badly hurt."
Although a CT scan revealed some bleeding outside of the brain, Kaleb was able to avoid surgery. But his physician at Blair E. Batson Children's Hospital in Jackson told the young athlete he could not play sports for several months.
"I remember thinking: How will I ever keep a 12-year-old boy still?" said his mom. Especially one who says: 'I love three things – hunting, fishing and baseball."
In November, Kaleb was cleared to return to his normal activities. But his mom was nervous about letting him pitch again.
"Pitchers don't wear helmets when they're on the mound," she said. "Every over-protective fiber in me told me not to let him play, but I also didn't want to take everything that he loves away from him."
Sessions tried researching what head protection might exist for professional ball players. "I found nothing,' she said. "The only thing that came close was something called a bump cap that construction workers use as a liner inside their hard hats."
After seeing that design, Sessions thought the MRC prosthetic staff might be able to devise something similar. "I knew if anyone could help me it would be Chris," she said.
"I had never done anything like it, but I was willing to try," he said. "I knew it had to be durable, but it also couldn't be too heavy."
After making an initial mold of Kaleb's head, Wallace formed the head piece out of strong, but ultra-light carbon fiber that was laminated with an epoxy acrylic resin. Air holes were added to ventilate the shell and keep Kaleb from sweating too badly.
While the fabrication was taking place, Sessions and her son came to an understanding. As long as the head piece didn't make him look any different from his teammates, he would wear it at every practice and game.
"He just knows that it's a part of his uniform now – at least for this ball season," Sessions said.
"My friends think its pretty cool," Kaleb said. "I don't mind wearing it at all….it keeps my mom happy, and I get to play baseball."
Kaleb has finished his regular season of baseball and made the 2011 All Stars team for his age division in Brandon.
"I'm glad I went ahead and let him play," Sessions said. And she's also proud to have been proactive about protecting her son. "I've only got one Kaleb," she said. "So I wasn't taking any chances."