Health and Research News Service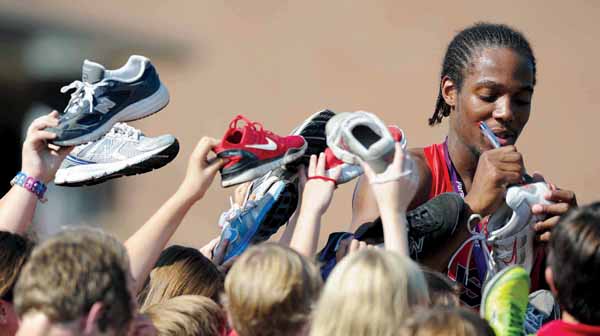 Shaquille Vance autographs running shoes for Madison-Ridgeland Academy's Running Club.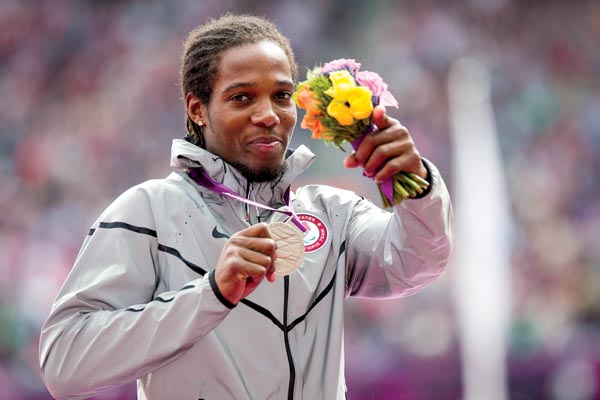 Shaquille Vance during the medal ceremony for the Men's 200-meter T42 (Joe Kusumoto/U.S. Paralympics).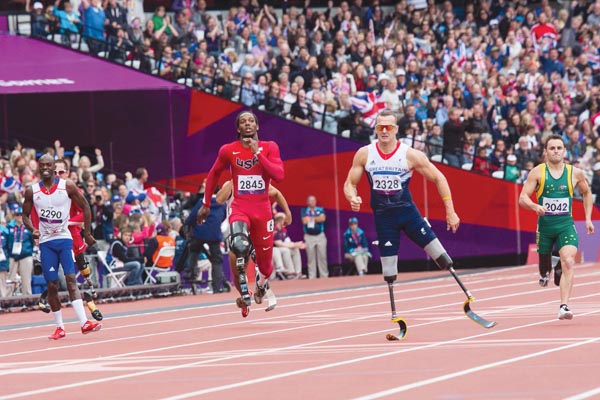 Vance and his rival Richard Whitehead of Great Britian jockey for position in the Men's 200-meter T42 race at the Paralympics
On a particularly hot afternoon in late September, Shaquille Vance stood on the Madison-Ridgeland Academy track surrounded by a crowd of adoring middle schoolers.
They were clamoring to have his autograph emblazoned on the veritable rainbow of running shoes they held aloft.
At that moment, to those children, he was the biggest superstar in the world.
Their eyes fixated on the silver medal he had won in the Men's 200-meter T42 classification race just weeks before at the 2012 Paralympics in London. And their curiosity was captivated by his hi-tech prosthetic running leg, built around a carbon-fiber blade known as a 'cheetah" foot. Methodist Orthotics & Prosthetics fabricated the device for Vance following a 2009 sports injury that forced an above-the-knee amputation of his right leg.
That moment followed a running demonstration and motivational speech Vance delivered to the school's Running Club. It was a moment indicative of the positive power sport has in people's lives—the power to motivate, to lead by example, to inspire.
"I think over time Shaquille has homed in on what he needs as an athlete, but he's also homed in on how he can serve as a powerful motivator for others, that it's more than just his athletic ability that he has to represent," said Jennifer Long, a certified prosthetist at Methodist O&P who has been Vance's sponsor, mentor and confidant. "I think he has grown into being a role model."
"I love being able to inspire the kids to know that life comes with a lot of difficult obstacles, but there is always a way to overcome," Vance said.
That notion is at the heart of the Paralympics. The slogan of the games is "Spirit in Motion," which the International Paralympic Committee says expresses "the inspirational character of the Paralympic movement as well as elite performance of Paralympic athletes."
It's something that Vance really took to heart as he competed at the Games.
"Every day that I went to the track there were 80,000-plus people there," Vance said.  "It made me think a lot about what I did because so many people came out to watch us, there were so many people excited to see guys with disabilities out on the track running and competing at an elite level just like the Olympians."
And while the massive crowd may have helped Vance realize just what it meant to represent both the United States and athletes with disabilities on the world stage, it didn't help to calm the nerves of an athlete getting his first taste of the ultimate level of competition.
He said of the day he ran the 200-meter: "I was walking through the tunnel to the track, and I said, 'This day is really here. I've been working three years for this.'"
When he emerged from the tunnel, he says he was nearly overwhelmed by the cheering crowd. But soon he zeroed in on the laser-like focus many elite athletes strive to achieve.
"By the time I lined up in the blocks, I saw no one," Vance said.  "Everything was a blur. It was time to go. The only thing I really remember is the gun going off and me taking off."
Exactly 25.55 seconds later, Vance had won the silver medal and set a new American record, finishing just fractions behind gold medalist and rival Richard Whitehead of Great Britain.
Vance's performance earned him fans in his U.S. teammates and fellow Methodist Rehab athletes Ryan Estep and Joey Brinson, who both competed in the Games in wheelchair fencing.
"I was watching it—I thought he was going to win! But that British guy really turned it on at the end," said Estep. "To go over there and represent the United States and Methodist Rehab, I think he did an amazing job. Hopefully all things will go well and we'll see each other again in Brazil [site of the 2016 Paralympics]."
And while Vance admits some disappointment for not getting the gold, he takes pride in his accomplishment.
"At first I didn't know, was I disappointed or was I mad or was I excited, because I got beat? But I took second so that's still winning," Vance said. "Then when I got on the podium in front of 80,000 people cheering for me, I didn't know if I wanted to cry or be happy or thank God—I probably did a little mixture of all of that. It was a feeling I will never forget."
"It's absolutely amazing that at his first Paralympic experience he won a silver medal," Long said. "It's unbelievable that he's come this far in the two year period that we've been working with him. Methodist O&P can't take credit for his running talent but we've been a big part of his journey."
Methodist O&P's role in that journey was much like the pit crew for a NASCAR racer.
Long was the car chief, personally handling much of the paperwork and logistics involved in getting Vance to London and complying with the myriad requirements of the sport.
"Jennifer is like my second mom," Vance said. "I can call her at any time and I can ask her for anything."
Certified prosthetist Joe Moss was the head mechanic. He helped design and fabricate the prosthetic socket for Vance's running leg to provide for proper fit, utmost comfort and the highest performance. He was assisted by Taylor Hankins, a resident afforded the unique opportunity to learn while working on such a high-tech device.
Meanwhile, Methodist O&P Director Chris Wallace was the crew chief, serving as administrative and clinical point man.
"Our experience with Shaquille has been beneficial on so many levels," Wallace said. "Not only has it allowed us to expand our clinical expertise by working with new advanced components, it has provided an opportunity to work with new techniques that help Shaquille perform at the highest level as well as impact other patients we serve with similar technology.
"Our efforts with Shaquille certainly don't define our practice completely, but they are part of our DNA now. And I expect they will be for a long time to come."
"I can definitely say if it wasn't for Methodist, I wouldn't be here right now," Vance said. "They've helped me in every way possible."
Along with Vance's great triumph came some disappointment. During the qualifier for his best event, the 100-meters, he sustained a common sports injury that hobbled his performance in the final.
"In my mind I was thinking, let's pace ourselves and not run it all out, then at finals give it all you've got," Vance said. "I got 30 or 40 meters and went to really turn it on and then my hamstring just kind of locked up."
"You could see it in his face that he was hurt," Long said. "It was just heartbreaking."
But Vance exhibited his never-say-die attitude by playing through the pain and running in the final, finishing eighth.
"Honestly, when I hurt my hamstring, I just wanted to be able to finish," he said. "I had gone 50 or 60 meters and literally wanted to stop running. But I told myself to finish the race."
Vance says that the experience made him realize the importance of proper stretching and warm-up, and to listen more closely to the wisdom of his coaches.
Vance's next step is the world competition in France in 2013, leading up to the next Paralympics to be held in Rio de Janeiro, Brazil, in 2016.
Meanwhile, Methodist O&P hopes to add more athletes to its roster to take to the Endeavor Games in June 2013.
"We see what it has meant to Shaquille to get back into competition, and we feel like there's some other patients that it would mean a lot to as well," Long said.
But she says their primary goal for the next four years is to make Vance faster.
"This is only the beginning," Long said. "We're looking at what has worked and what can work better for him as far as prosthetics to help him reach the goals he has for himself, which is ultimately gold."
"2016, in Rio, I plan to redeem myself," Vance said. "I'm looking to do more than just the 100, 200 and shot put. I hope to do at least five to six events. But definitely in the 100 and 200 meters, it's going to be a showdown with the guys who beat me."
While gold is still on his to-do list, Vance has proved that he and other Methodist Rehab athletes are a force to be reckoned with.
"It's every athlete's dream to come home with a medal, and that's just what Shaquille accomplished," said Ginny Boydston, therapeutic recreation director at Methodist Rehab. "For Methodist Rehab to have had three athletes attend the games was phenomenal, and now things are looking great for 2016. Methodist Rehab should have another shining showing, and adding another few athletes to the roster should make our chances even better."
For more information about Methodist Orthotics & Prosthetics, call 601-936-8899.