Health and Research News Service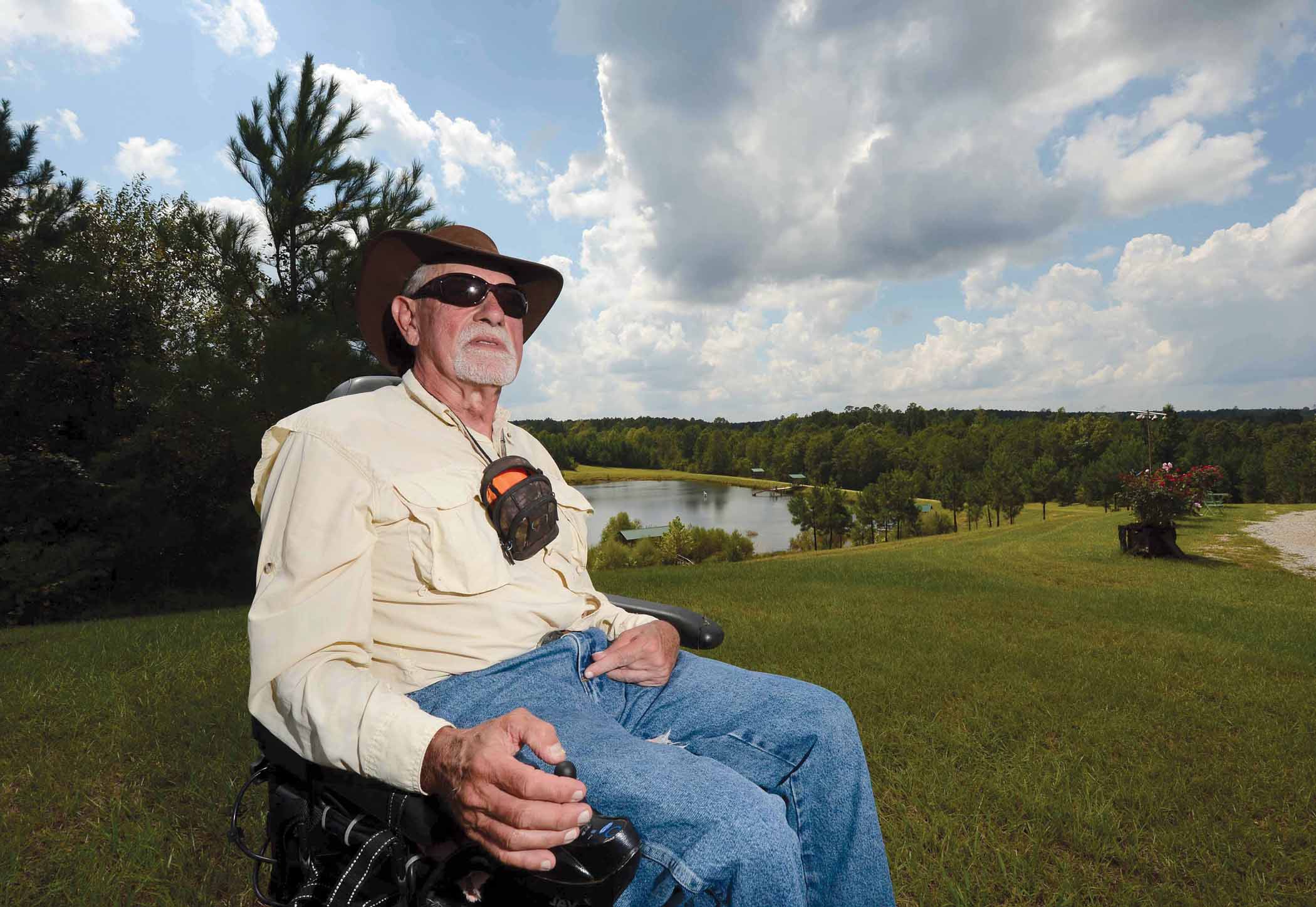 Bill Meador of Hickory.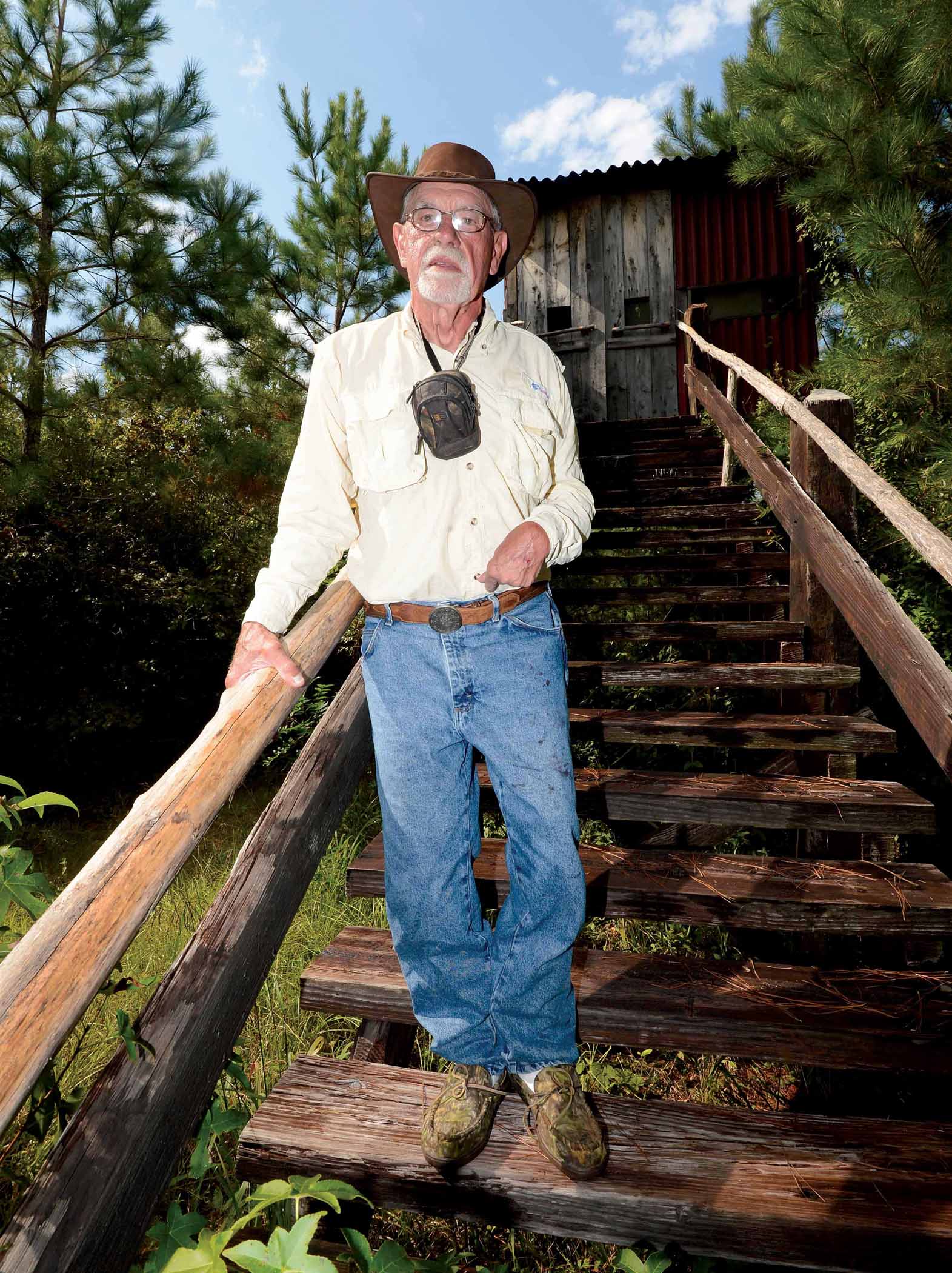 Bill Meador spent the second anniversary of his stroke in the same shooting house where he suffered a brain bleed on Dec. 17, 2008. At the time, the house had only a ladder. But Meador had a staircase built so he could still access the 12-foot perch.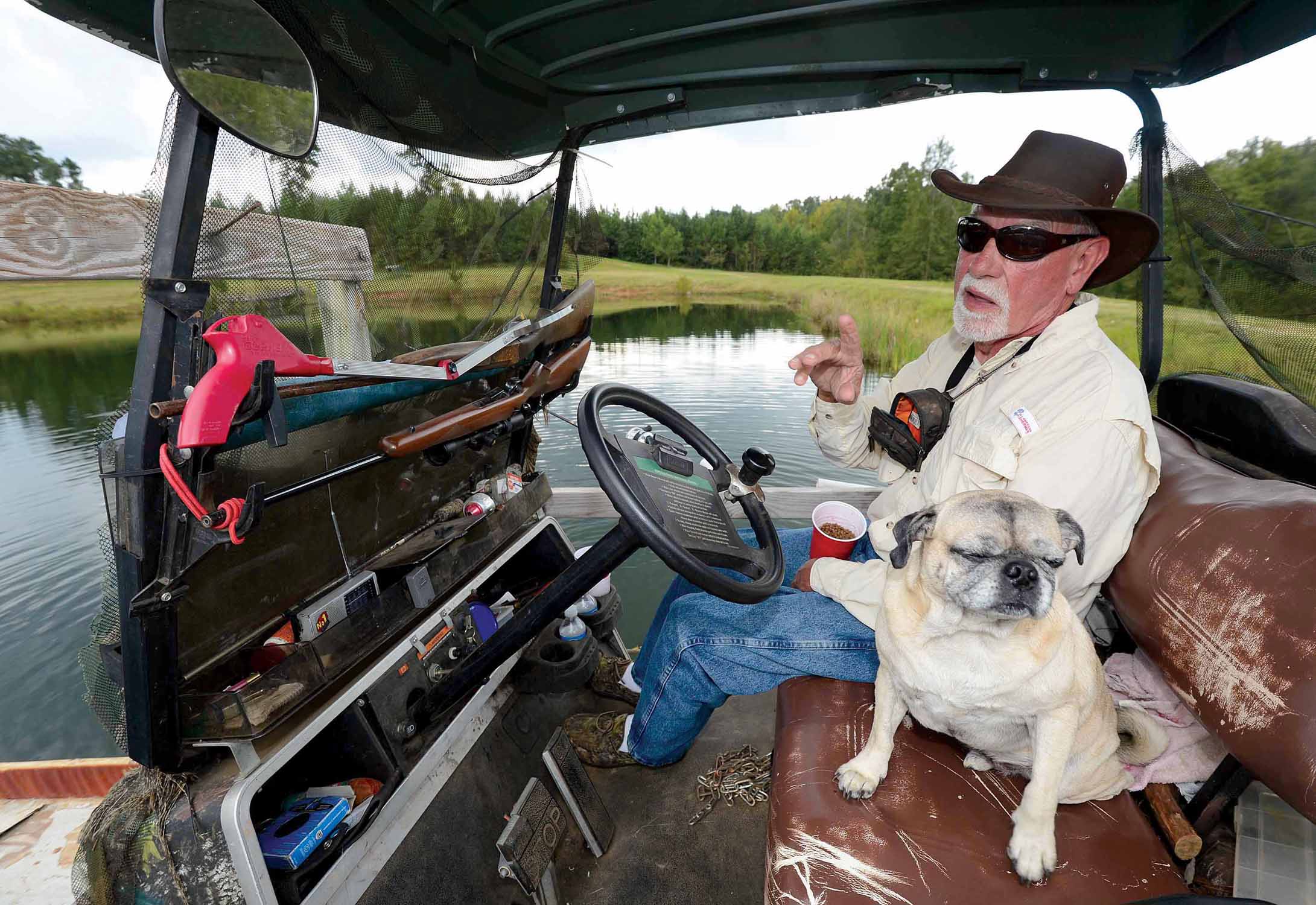 It takes ingenuity to hunt and fish with a paralyzed arm and leg, and engineer Bill Meador has plenty. He uses a hemostat to bait his hook and PVC pipe attached to pier railing to hold his fishing rods. His golf cart—a favorite perch for pug J.J.—is equipped with a foam rest that supports Meador's rifle while he's taking aim.
When Bill Meador began transforming his Hickory farm into a hunter's paradise, he built one shooting house with a wheelchair ramp.
He wanted to make sure guests with disabilities had a prime place to hunt. "There's a heater in there, food plots nearby and you can look in three different directions," he said.
Of course, he never expected to be the first one to use it. "How ironic is that?" he says.
Paralyzed on his left side by a 2008 stroke, the rugged outdoorsman now gives "roughin' it" a whole new meaning. But you won't catch him wasting time on whining.
"After I came close to dying, a day means more to me than it used to," says the 69-year-old retired engineer. "I try to make something positive happen every day."
Lately, he has been inventing ways to make the great outdoors more welcoming to folks who love hunting and fishing but are hampered by health problems.
All across his 120-acre property are numerous examples of his ingenuity—a motorized scooter equipped with double back wheels to handle tough terrain, PVC pipes attached to pier rails to hold his rod 'n' reels and a foam swimming pool "noodle," now atop his golf cart windshield and serving as a gun rest.
"My ole pea brain is always thinking," he said. "Sometimes I get up at 4 o'clock in the morning to sketch something on a piece of paper."
"If there's a way to do it, Mr. Meador will find a way," says Merry Claire Wardlaw, a physical therapist at Methodist Outpatient Rehabilitation in Flowood.
Meador underwent both inpatient and outpatient therapy at Methodist Rehab, and from day one his goal was to get back in the woods. So staff helped the avid outdoorsman develop skills to compensate for his paralysis—from strengthening his sound side to increase his balance and endurance to showing him new strategies to accomplish common tasks.
"He was very determined and creative with adapting his environment," said Methodist Rehab physical therapist Lisa Indest. "He didn't have a problem changing the way he did things so he could get back involved in hunting and fishing."
Methodist's driver retraining program helped Meador get back behind the wheel and find the right adaptive equipment for his various vehicles. And he says he treasures being able to tool around his property in an electric golf cart.
"I love being here," he says looking out over a large pond stocked with bream and bass and the rolling terrain that is home to 17 deer stands. "When I couldn't drive, I thought I was going to go crazy. I was always an outgoing guy and everything I wanted to do was right here under my fingertips."
Meador said it was Dec. 17, 2008, when "my whole life changed in a matter of seconds." He was inside a shooting house, gun in hand, when blood vessels in his brain began hemorrhaging.
"I was sitting in a swivel office chair and the first thing I know I was on the floor," he said. "I couldn't get up. I reached over and touched my left arm, and I couldn't feel it. I said: 'This is not good.'"
Meador reached for his cell phone and punched a pre-programmed number to call his neighbor. "I think I've had a stroke," he said.
Help soon arrived, but rescuers faced a daunting challenge. They had to get a 215-pound man to the bottom of a 12-foot ladder. And Meador says he'll never forget the burly friend who volunteered to carry him down—never mind that the man was terrified of heights.
Fortunately, a nearby farmer had a fork lift attachment on his tractor that was used to lower Meador to the ground. He was ferried out of the woods on the back of his own four-wheeler and transported to a hospital in Meridian, then transferred to Jackson.
The following year was torturous for an independent soul who had spent little of his life indoors. He was in and out of hospitals, battling setbacks that eventually sent him to a nursing home.
So when he was finally healthy enough to attack rehab, Meador refused to let anything get in the way of getting better. "He had no fear," said Methodist Rehab occupational therapist Suzanne Colbert. "His words to other people were: Don't let anything slow you down. Even if you have only one arm or leg, there's a way to get it done."
On the second anniversary of his stroke, Meador practiced what he preached.
"I was back in the same shooting house with the same shooting rifle and the same chair," he said.
Meador had gotten a friend to build a staircase to the shooting house, and on that day the man left a message on the steps.
"He took a chainsaw and carved Dec. 17, 2010 on one of the steps and below it Mr. Bill," Meador said.
Today, the carving serves as a source of inspiration to others with disabilities.
"I've had two hunts for Outdoors Without Limits and two hunts for handicapped adults and kids," Meador said. "One of the little fellows was 13 years old, and I put him in a place we call the Honey Hole. If you don't see a deer there, it's because you're asleep. He killed a little yearling, and he was so excited you would have thought he had gotten a 10-point buck. It made my day."
For information on hunting at Meadorosa Deer Camp & Lodge, call 601-201-5832.For more information on outpatient rehabilitation following a stroke, call 601-936-8889.