Health and Research News Service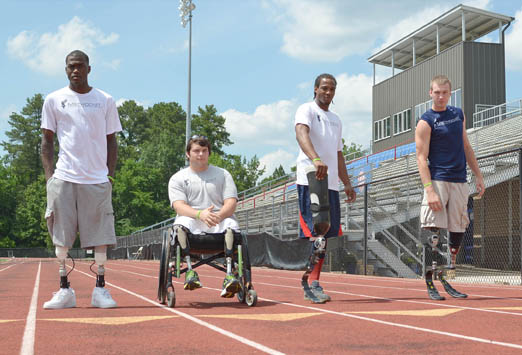 Team Methodist Orthotics & Prosthetics includes, from left to right, Marcus Sartin of Hattiesburg, Drew Bouchillon of Senatobia, Shaquille Vance of Houston and Bryant Camp of Tupelo.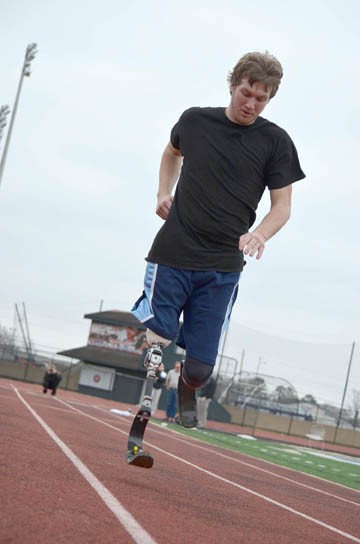 Bryant Camp of Tupelo tries out his new running prostheses built by Methodist Orthotics & Prosthetics in Flowood.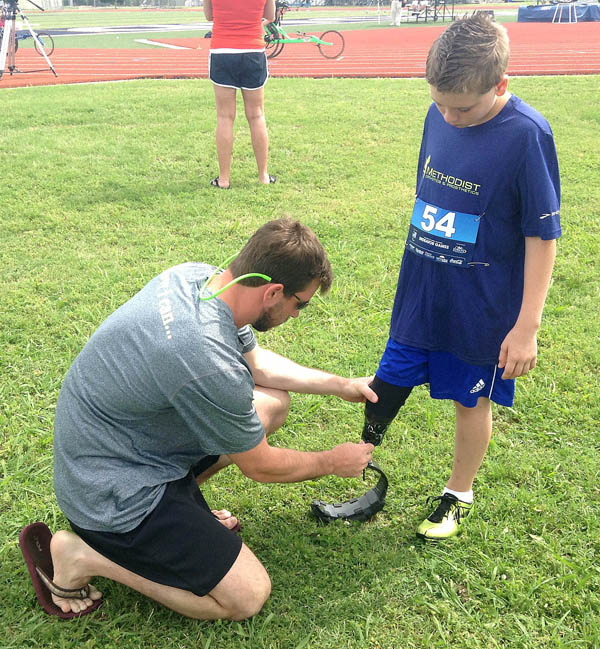 Tyler Jones of Madison.
It was a hazy February afternoon when 22-year-old Bryant Camp of Tupelo first tried out his new pair of legs. As he ran around a high school track that was still damp and glistening with rain, he flashed a smile as wide as the track was long.
That smile never left his face, even as he fell a first time, then a second. Each time, he picked himself up and kept running. Though he knew his new legs would take some getting used to, they were bringing him closer to his dream of becoming a Paralympic athlete.
His first taste of track and field competition comes at The Endeavor Games, a multi-sport event for athletes with disabilities held June 6-9 in Oklahoma City. The four-sport high school athlete had planned to try out for his school's newly formed track team when he lost both legs in a car accident at age 16, so racing has been on his to-do list for a while.
"Literally the day after they amputated my legs, I got on the computer and was looking at running prosthetics," said Camp, who was fitted with Flex-Run running blades by Methodist Orthotics & Prosthetics in Flowood. "It hasn't even hit me yet. I feel like I'm going to be driving home and just start crying."
Team Methodist O&P hopes to help many other amputees like Camp realize their dreams of competitive sports after limb loss.
"It's all about getting kids involved with sports and the positive effect that has in their lives," said Jennifer Long, a certified prosthetist who serves as the team's leader. "It keeps them pumped up, it keeps them going. Bryant—since we gave him running legs—he doesn't take his walking legs with him anymore. He lives in his running legs."
Over the past few years, Methodist O&P tested the waters by sponsoring track and field athlete Shaquille Vance, who eventually made the 2012 U.S. Paralympic Team and competed in London in September. Vance brought home a silver medal in the Men's 200-meter. It's just the start of a promising career for the 21-year-old Houston native who had his right leg amputated above the knee after a football injury.
Now Methodist has assembled a diverse team of athletes with disabilities who have their sights set on making a strong showing at the 2013 Endeavor Games. Joining Camp and Vance are 22-year-old Drew Bouchillon of Senatobia, 11-year-old Tyler Jones of Madison and 20-year-old Marcus Sartin of Hattiesburg.
"We're incredibly excited about this year," Long said. "Drew has been texting me every day with the number of days left until the games."
Bouchillon and Camp are friends who first became acquainted when Bouchillon came to the Regional Medical Center at Memphis (The Med) after losing both his legs in a bushhog accident in 2008.
"About three weeks after my accident things were still pretty rough, and Bryant came up to The Med for a check-up," Bouchillon said. "They introduced us because we were around the same age and similar injuries—and Bryant got down on the floor and break danced. That cheered me up so quick!"
After recovery at The Med, Bouchillon came to Methodist Rehabilitation Center in Jackson for rehab for nearly a month, and was referred to Methodist O&P for his prosthetic needs. There, Long introduced him to the idea of returning to athletics.
"I've been playing sports since T-ball," Bouchillon said. "Baseball, soccer, basketball, football. I played football through eleventh grade, and my accident was in the summer. Getting back into competing, that's one way to overcome what's happened to you. It's something to wake up in the morning for."
Bouchillon plans to compete in shot put and discus and to try his hand at powerlifting.
"That's kind of how the Endeavor Games works," Long said. "It serves as an introductory event where they have the ability to compete in any event they choose. Whether they want to do wheelchair basketball, swimming, field events, track events—they can test the waters and see what's going to be their sport."
Camp is also interested in wheelchair racing, having participated in a bike-a-thon in Alabama last year, as well as the St. Jude Marathon in Memphis—both using a standard wheelchair. Methodist Rehab's Seating and Wheeled Mobility Clinic is in the process of designing a custom racing wheelchair for him to use.
"Someone in the Tupelo area has offered to purchase Bryant a chair," Long said. "But unfortunately it's not going to be ready for the Endeavor Games."
For Jones, who had his right leg amputated below the knee at age 3 due to cancer, it wasn't about getting back to sports—he became an athlete after his amputation. His experiences at three previous games have narrowed his focus to shooting, archery, swimming and track.
He's off to a great start, having won medals in shooting and archery at three previous Endeavor Games. Jones said he can give the adults a run for their money—in those events he often competes against older athletes.
"I'd say I'm pretty good," he said. "I've gotten silver, gold, two bronze…."
Vance has become something of a role model for Jones, after the two met at the Endeavor Games and Vance impressed the younger runner with his Paralympic win.
"I've met a whole lot of people at the games just like me," Jones said. "Shaquille is really nice, and he inspired me to do more track events. He is just amazing."
Jones hopes to become more competitive in track thanks to his new running leg Methodist O&P fitted him with in the spring. "Since I got it, I really want to do better than I did last year," he said.
Tyler's father Billy Jones now works for Methodist O&P as a technician. After the family moved to Jackson from Olive Branch, Tyler officially became a part of the team.
"It's great for Tyler to join Team Methodist because he can look up to the other guys," Long said. "I think it will be a good bonding experience for them while we're out there. Shaquille—he's been training with Bryant because they live near each other—he's been a great mentor to them all. And I think it helps Shaquille too, because he knows he's got someone gunning for his spot."
Sartin, whose legs were amputated below the knee at age 8 due to a bacterial infection, is the latest addition to the team.
"We've been asking him for a couple years to get involved with sports," Long said. "He and his mom came by last week and said they were interested. So he's kind of a latecomer to the team, but we're still excited to see what he can do."
With two Endeavor Games veterans and three promising rookies on the team, Methodist O&P should make some noise at this year's event.
"I think when we get there people are going to be saying, 'Where did these kids come from?'" Long said.
Camp hopes it will be just the beginning. "My short term goal is to learn the basics of running, and then go to Oklahoma City and impress somebody," he said.
"My long term goal—bring home as many medals as possible."