Methodist Orthotics & Prosthetics wins 17 medals at Endeavor Games
Health and Research News Service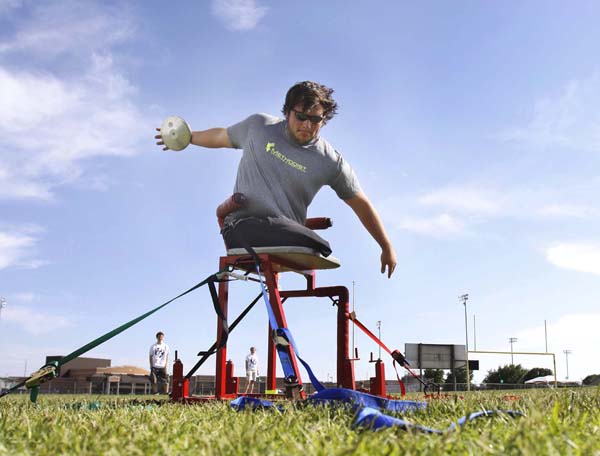 Drew Bouchillon of Senatobia competes in the discus event at the 2013 Endeavor Games in Oklahoma City. Photo credit: Drew Harmon | Special to The Edmond, Okla., Sun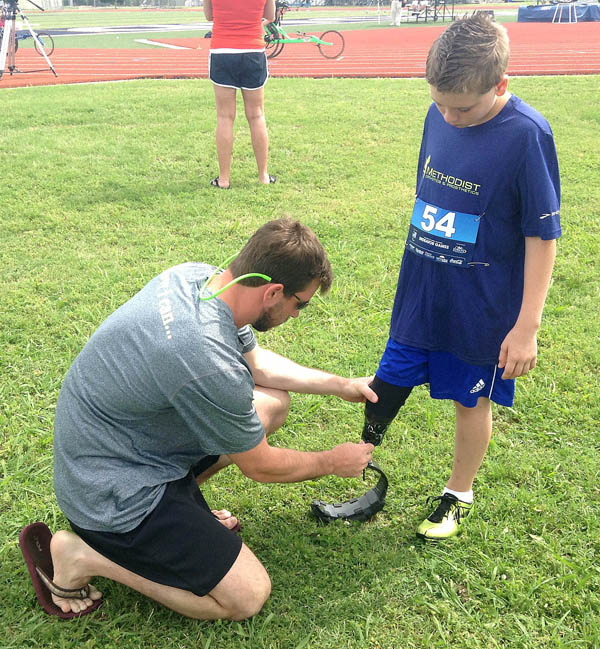 Methodist Orthotics & Prosthetics prosthetist Taylor Hankins adjusts the running prosthesis of athlete Tyler Jones of Madison.
Methodist Orthotics & Prosthetics in Flowood had a mission: to assemble a team of athletes with disabilities and make a splash at the annual Endeavor Games.
Mission accomplished—Team Methodist O&P brought home 12 gold medals, four silver medals and a bronze at the event, which took place June 6-9 in Oklahoma City.
"Our goals were absolutely exceeded," said Jennifer Long, a certified prosthetist who serves as the team's leader.  "We went out there with the hopes of introducing some of them to sport and it opened up their eyes to a whole new world."
In fact, the team's three rookies made an impressive debut.
Drew Bouchillon of Senatobia scored gold in powerlifting, javelin, shot put and the 100-meter and 200-meter in wheelchair racing, plus a sixth in discus where he was "just two meters shy of the American record," he said. "I'm real happy with that."
Bryant Camp of Tupelo took gold in the 200-meter in wheelchair racing and silver in table tennis.
"Everyone was so encouraging," Camp said of the event. "Even though I had never been there before or even tried some of the events, the people were so helpful and I was able to learn very quickly."
Marcus Sartin of Hattiesburg won a bronze in wheelchair basketball and a gold in javelin, where he set a new American record in a sport he had never attempted.
"I was really trying to find out what I was good at, and find what I like to play," Sartin said. "I really had fun with wheelchair basketball, and now I want to get into track."
Methodist O&P has plans to fit Sartin, who joined the team just weeks before the games, with running legs so he can compete in track events, something Long had been suggesting to him for the last few years.
"I knew that if I could introduce him to what's out there, it would be eye-opening," Long said.  "Endeavor is such an incredible avenue to introduce someone to the world of sports. It gives them a drive within themselves that they may not have known existed. It gives them hope. That's why I got into this field in the first place."
The Endeavor Games is an amateur-oriented event that provides athletes with disabilities the opportunity to try sports they might not have the proper equipment for or even access to. Bouchillon had never used a racing wheelchair before but still scored gold in the two wheelchair racing events.
"I'm hooked now," he said.
The three rookies did not compete head-to-head, as Endeavor Games events are divided by both age group and injury classification. Bouchillon lost both legs above the knee in a bushhog accident, while Sartin had both legs amputated below the knee due to infection. Camp lost one leg above the knee and the other below the knee in an auto accident.
"The first day was culture shock, being around so many people like me," Bouchillon said. "Where I'm from, I'm the only person for miles with an injury like mine."
Also making a strong showing was Endeavor Games veteran Tyler Jones, an 11-year-old whose right leg was amputated below the knee due to cancer at an early age. He snagged gold in indoor archery, discus, shot put and javelin, and silver in the 100-meter and 200-meter. Jones joined Team Methodist Rehab this year but has been competing at the games since 2009. Tyler's father Billy Jones now works for Methodist O&P as a technician. After the family moved to Madison from Olive Branch, Tyler officially became a part of the team.
"Tyler did phenomenal," Long said. "It's been great for Tyler to join team Methodist because he can look up to the other guys."
Team Methodist's resident superstar is Shaquille Vance of Houston, who made history as the first Mississippian to medal at the Paralympics when he scored silver in the Men's 200-meter at the London games last August.
Vance had been recovering from a minor injury and limited his participation at the Endeavor Games this year, which is more of an amateur-focused event for Paralympic hopefuls to earn the experience necessary to move to the next level of competition. The veteran was happy to provide welcome support to his team.
"He's come such a long way in the few years that he's been running," Long said. "He's really matured. When we were in Oklahoma he got up every day and went out to the track to give pointers on running. It's been great to see him not only grow as an athlete but also as an individual."
Vance was recently selected to represent Team USA at the IPC Athletics World Championships to be held in Lyon, France July 19-28.
But Vance may not be the only Team Methodist O&P athlete to go to the next level.
Long said that Sartin's javelin record and Bouchillon and Camp's performance in the wheelchair racing events drew the attention of Paralympic coaches.
"I think there's a real shot for them to fast-track onto the team," she said.
Camp, meanwhile, might even have another avenue. He recently participated in the State Games of Mississippi's wheelchair fencing tournament that was held at Methodist Rehab on June 15, and won gold in epee despite having only had one previous lesson.
"He's such a competitor," Long said. "That's what I love about this group of boys—they all have that competitive spirit."