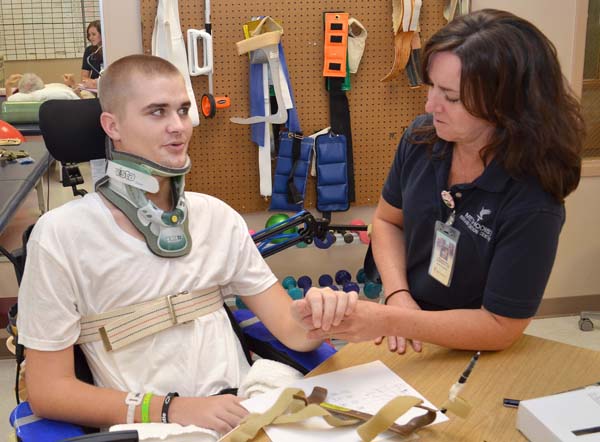 Justin Howell of Summit practices writing with occupational therapist Stephanie Lynchard during his stay at Methodist Rehab in June of 2012.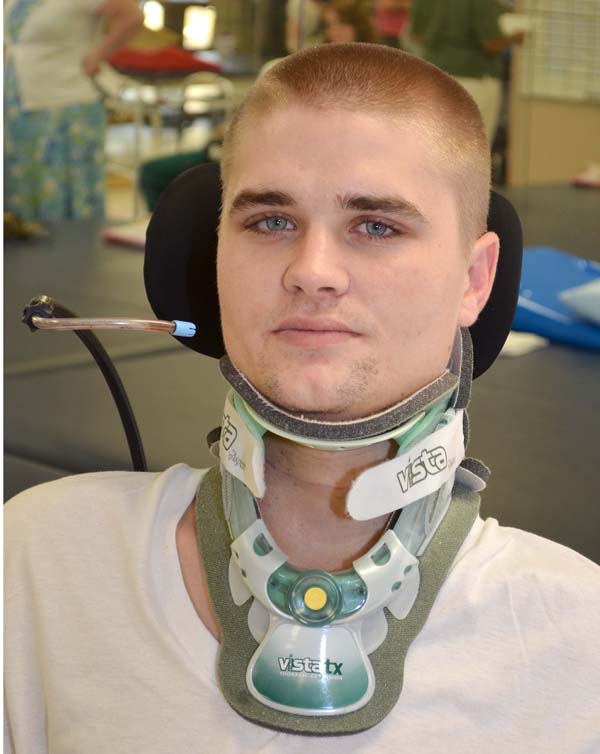 Justin Howell of Summit
The place that would forever change Justin Howell's life is as much a part of Pike County summers as heat and mosquitoes.
"Just about everybody from around here has been to the Bogue Chitto River at least once," said the Summit native.
Above a popular swimming hole on the river, a rope swing dangles over a 20-foot embankment. It's where a few seconds of thrill seeking left Howell paralyzed from the shoulders down.
Diving is the No. 1 cause of sports-related spinal cord injuries, according to ThinkFirst, the National Injury Prevention Foundation. And the risk rises in tandem with the temperatures.
"They mostly occur during the summer months, when people are enjoying the outdoors and water sports," said Dr. Sam Grissom of Madison, medical director and spinal cord injury specialist at Methodist Rehabilitation Center in Jackson. "Mostly they involve younger men like Justin, because young men, unfortunately, are the risk-takers."
"I was trying to show out," Howell said, explaining he made a bold swing from the rope to draw his friends' attention, but held on a little too long to land safely in the water below.
"As soon as I let go of the rope, I knew it was too late," he said. "The water was too shallow."
Howell plummeted head first into roughly three feet of water near the bank, breaking his neck instantly and suffering a spinal cord injury that has left him a quadriplegic.
"As soon as I hit, I knew something was wrong because I was face down in the water and couldn't move," he said.
A friend pulled Howell from the water up onto the sand bank, while another called 911. It took 45 long minutes for help to make it to their remote location.
Paramedics strapped Howell to a board, then placed him atop a kayak that they floated upstream to an ambulance a few hundred yards away. They then drove another few football field lengths where a helicopter waited to airlift him to the University of Mississippi Medical Center.
In June of 2012, Howell began therapy at Methodist Rehab, where he learned to compensate for the extensive loss of movement that is characteristic of diving injuries. Ninety percent of diving injuries result in quadriplegia, according to ThinkFirst.
Because diving injuries are largely preventable, Dr. Grissom preaches proper precautions.
"If you can't see the bottom, it's best not to dive—I wouldn't even jump in," Grissom said. "You need to have a clear understanding of what's down there."
Grissom says that even if you think you know, always double check.
"Even in a place where people have been swimming, and it's a water hole known to be safe for diving, you could have a submerged tree that wasn't there before—I've seen that happen," he said. "Tides change, the sandbars change, the depth changes. I've seen these types of injuries on rivers, lakes, even boats that are anchored that have drifted."
Some advocate the rule of "feet first, first time" when jumping into an unknown body of water, but Grissom doesn't agree.
"I wouldn't say that," he said. "You can minimize your risk, but you can still have compression injuries. If you go feet first, you're just changing the area where a spinal cord injury can occur."
Howell says he wishes he had been more careful when he thinks back to the day of his accident. The swimming hole where he broke his neck has a reputation for danger, but that didn't stop him or countless others who take the plunge off that cliff every summer.
"That spot I'm sure has claimed some lives. There was a guy that was paralyzed a day after me at the same spot," Howell said.
Howell hopes his story can serve as a warning to summer thrill-seekers.
"You can go and have fun, but you need to be as careful as possible," Howell suggests. "You don't ever know what can happen."
DIVING SAFETY TIPS
• Avoid the use of alcohol and drugs in aquatic environments.
• Dive only in water that is deep enough to support the size, weight and skill level of the diver. As a rule, the depth of the water should be twice the height of the diver.
• Never dive into the shallow end of the pool.
• The hazards of diving in unknown waters are extreme. Never dive into unfamiliar bodies of water. Always check for submerged objects like rocks, tree trunks and other debris before diving.
• Know the water depth before diving.
• Dive only in well marked and well supervised environments that are designated for diving.
• Don't dive or swim alone. Bring a buddy or have a qualified guard present.
• Never dive into an above ground pool—they are not designed for diving.
• Never run and dive.
• Never dive from retaining walls, ladders, slides, or other pool equipment.
• When diving from a diving board, always dive from the end and not the sides.
• Never dive through objects such as inner tubes.
• Do not slide down slides head first.
Source: Thinkfirst.org