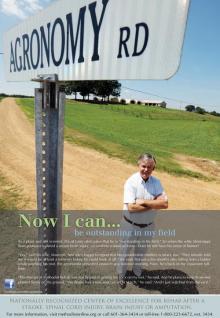 As a plant and soil scientist, David Lang often jokes that is he is "out standing in his field." So when the witty Mississippi State professor suffered a severe brain injury, co-workers wanted to know: Does he still have his sense of humor?
"Yes," said his wife, Maureen. And she's happy to report his considerable intellect is intact, too. "They initially told me it would be at least a semester before he could think at all," she said. "But just a few months after falling from a ladder while patching his roof, the agronomist presented research at a national meeting. Now, he's back in the classroom full-time.
"The therapy at Methodist Rehab was real helpful in getting me back on my feet," he said. And he plans to keep those feet firmly planted on the ground. "We finally had a new roof put on in March," he said. "And I just watched from the yard."

Download Poster