Proven Neurological Expertise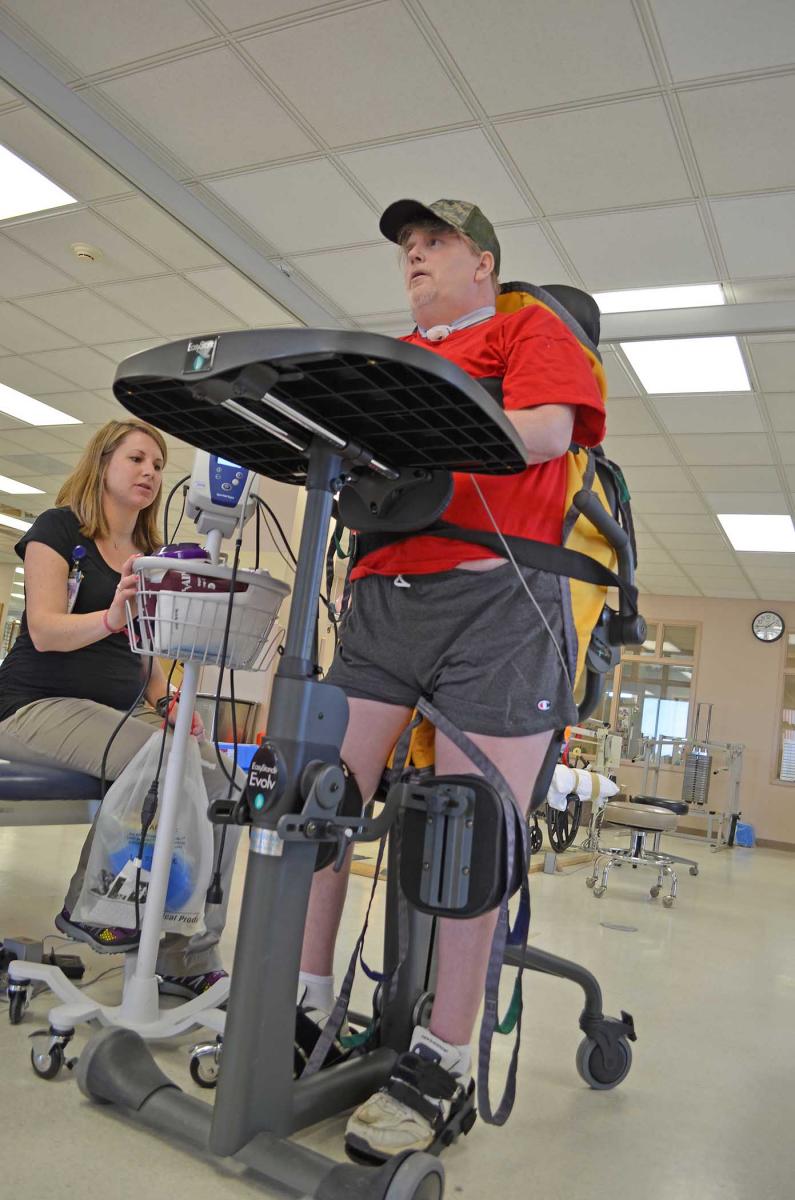 The same expertise that makes Methodist Rehabilitation Center the best place to recover from a stroke, brain or spinal cord injury also makes MRC a first choice for those seeking treatment for a variety of neurological diseases and disorders.
Through our NeuroRehabilitation services, MRC helps patients – from teenagers to adults – overcome the disabling symptoms of a variety of neurological disorders, including multiple sclerosis, amyotrophic lateral sclerosis (ALS), Parkinson's disease, Guillain-Barre' Syndrome and West Nile virus poliomyelitis.
Our specialists have extensive experience addressing the physical, cognitive and emotional issues associated with these common neurological conditions. And our goal is to help every patient maximize their abilities and maintain their independence.
Services are available through inpatient hospital stays, and our physicians also provide follow-up treatment for rehabilitation-related needs through our outpatient clinic located on the hospital's second floor. Outpatient therapy is available at Methodist Outpatient Neurological Rehabilitation.
Methodist also plays a lead role in neuroscience rehabilitation research. Our scientists were the first in the world to report a link between West Nile virus and poliomyelitis and our patients have greatly benefitted from the knowledge gained from their studies.
Our Team
Our team is led by a board-certified physical medicine and rehabilitation physician and includes certified rehabilitation nurses, physical therapists, occupational therapists, speech therapists, respiratory therapists, therapeutic recreation specialists, case managers, dieticians, neuropsychologists and biomedical/rehabilitation engineers.
Communication is maintained, as needed, with the patient's referring physician and, when necessary, other medical specialists or research physicians are consulted.
Through regularly scheduled meetings and frequent interaction, the team works together to improve each patient's strength, balance, mobility, speech, swallowing and other abilities affected by the neurological disorder. The goal is to optimize the patient's physical and cognitive abilities and to teach strategies and prescribe assistive equipment to compensate for any deficits.
Our Services
Methodist Rehab brings together medically accepted therapies, as well as newly recognized innovative treatments, to help patients achieve the highest level of recovery possible following a neurological injury or illness.
Patients benefit from a comprehensive treatment schedule that typically includes occupational, physical, speech, respiratory and recreational therapy. When not in therapy, patients are cared for by nursing staff, who help promote independence by helping patients practice skills learned in therapy and by providing education on a variety of rehab topics.
Family members are always welcome to be part of the process and are encouraged to take advantage of group support and educational opportunities.
Issues typically addressed during the recovery process include:
Activities of Daily Living. Learning how to meet daily needs is an essential part of rehabilitation following a neurological injury. Through individual and group treatment programs, we help patients re-learn and accomplish daily tasks related to self-care (i.e. dressing, eating, bathing, and bladder and bowel retraining), home management and driving.
Mobility. Neurological patients participate in exercise programs designed to promote nerve conduction, strengthen intact muscles, maintain or gain mobility and build endurance and confidence to perform everyday activities. They may also learn how to use a wheelchair on a variety of surfaces, how to transfer from a wheelchair to a bed, toilet, tub or car, and how to walk with assistive devices such as braces, crutches, walkers or canes.
Adjustment. Education sessions help both patient and family understand the consequences of neurological injury and how roles, relationships and responsibilities are affected. Through adjustment counseling, the team helps patients and family members adapt to these changes and make plans for the future. We also offer sexual counseling and encourage participation in support groups.
Respiratory Function. Our respiratory therapists evaluate, treat and care for neurological patients with breathing problems or other cardiopulmonary disorders. They offer a unique respiratory rehabilitation program to help improve a patient's overall pulmonary function and provide a skilled program for ventilator-dependent patients.
Skin Health. To avoid the common threat of skin complications, we implement an individual skin care program for each patient that includes turning and positioning, pressure relief raises, skin checks and teaching patient and family how to prevent pressure ulcers.
Spasticity Management. Our nationally recognized spasticity management program helps patients overcome disabling muscle spasms and stiffness through a variety of advanced treatments. These include Botox injections and intrathecal Baclofen therapy (also known as Baclofen pump, an implantable device that delivers anti-spasmodic medication directly into the spinal fluid).
Assistive Technology/Adaptive Equipment. Our staff provides expert guidance for the selection and customization of wheelchairs and other mobility devices, environmental control units and adaptive computer equipment. We also can assess home and work sites and recommend modifications and assistive equipment.
Continuity of Care. Methodist Rehab provides follow-up services through an extensive network of outpatient medical and therapy clinics. Our Methodist Rehabilitation Center Outpatient Services clinics in Flowood offer special services for people with neurological conditions. These include vestibular rehabilitation, balance training/fall prevention, driving evaluations/adaptive training, low vision training, aquatic therapy, training for Bioness L300 and H200 Neuroprosthetic devices, VitalStim® therapy for swallowing disorders and training for augmentative communication devices. For Parkinson's patients, we provide Lee Silverman Voice Technique (LSVT) LOUD for Voice Amplification and BIG for Movement Impairments
Community Reintegration. Since our goal is to return patients to their home, work, school and community, we develop a comprehensive discharge plan that prepares the patient for life after rehabilitation.
Recreation. Through a variety of planned leisure activities, we give patients an opportunity to explore their capabilities in social and community settings.
What Sets Us Apart?
Neurological patients are hospitalized on a floor with staff and facilities dedicated to the treatment of neurological injury and illness.
Neurological patients have opportunities to participate in clinical trials and other research through the hospital's Center for Neuroscience and Neurological Recovery.
Neurological patients can take advantage of our nationally recognized spasticity management program.
Neurological patients have access to specialized clinics that offer evaluations and guidance for the selection of wheelchairs, environmental control units, adaptive computer equipment and other assistive technology.
Neurological patients have access to treadmill gait training, a therapy that has helped many patients make significant gains in their walking ability.
Neurological patients benefit from the staff's knowledge of innovative rehab technologies, including electrical stimulation devices designed to address foot drop, hand weakness and swallowing disorders.
Neurological patients have access to lifelong care through an extensive network of outpatient clinics including Methodist Neurological Rehabilitation in Flowood.
Neurological patients are able to participate in therapeutic recreation programs and community reintegration activities.
Neurological patients have priority access to our three handicap accessible apartment complexes and our long-term, residential care facility.
Contact Us
Methodist Rehabilitation Center
1350 East Woodrow Wilson Drive
Jackson, MS 39216
601-981-2611 or toll-free 1-800-223-6672
Admissions and Referrals - 601-364-3477