Proven TBI Expertise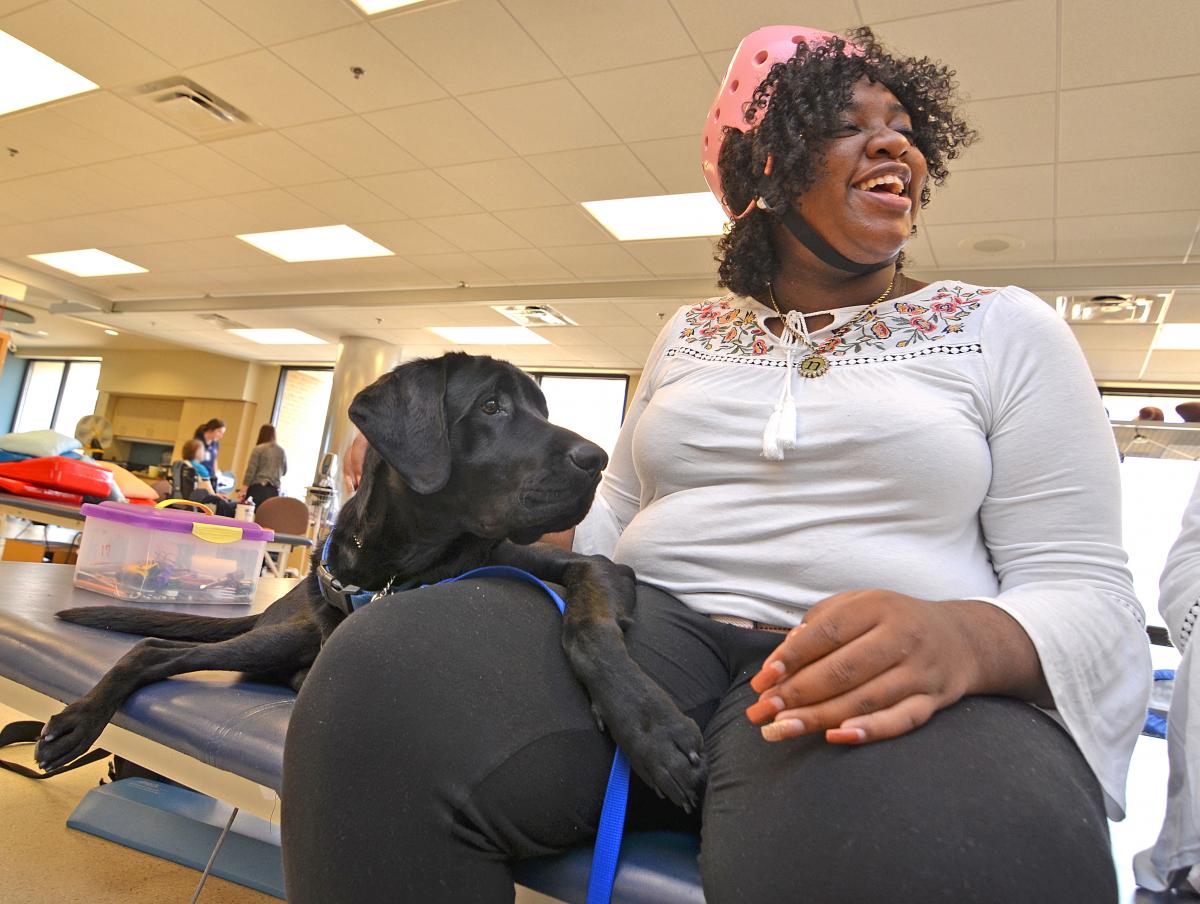 Since 1975, Methodist Rehabilitation Center has helped thousands of brain injury patients reach the highest possible level of independence. This experience — along with our nine-year designation as a Traumatic Brain Injury Model System — gives us the proven expertise that no other Mississippi hospital can claim. As the state's only provider of a comprehensive brain injury rehabilitation program, we treat patients — from teenagers to adults — with acquired brain injuries resulting from trauma, cerebral hemorrhage, infection, tumors or lack of oxygen. 
Our Team
Our brain injury team is led by a board-certified physical medicine and rehabilitation physician and includes nurse practitoners, certified rehabilitation nurses, physical therapists, occupational therapists, speech therapists, respiratory therapists, therapeutic recreation specialists, dieticians, pharmacists, case managers, social workers, neuropsychologists, biomedical engineers, orthotists and assistive technology and robotic equipment specialists.
We also encourage referring physicians to remain involved in the patient's care, and we consult other medical specialists as needed. Family members also are encouraged to be a part of therapy and educational sessions.
Our Program
After undergoing a comprehensive evaluation, patients receive individualized treatment designed to encourage maximum recovery. Our brain injury team then works with patients, family members and referring physicians to set goals for a successful return to home, work, school and community life. 
Patients benefit from a comprehensive treatment schedule that typically includes occupational, physical, speech, respiratory and recreational therapy. When not in therapy, patients are cared for by nursing staff, who help promote independence by helping patients practice skills learned in therapy and by providing education on a variety of rehab topics.
Family members are always welcome to be part of the process and are encouraged to take advantage of group support and educational opportunities.
Issues typically addressed during the recovery process include:
Cognitive, Emotional and Behavioral Needs. Cognition is a group of mental processes that includes attention, memory, communication, reasoning, solving problems and making decisions. Cognitive changes affect a person's behavior, emotional responses, social skills and all relationships. After thoroughly evaluating a patient's cognitive abilities, the team may assist patients with memory enhancement and decision making, using a variety of tools including reality orientation, cognitive therapy, computer tasks, memory aids, films, games and academic training. Sensory stimulation in the early critical stage of recovery involves consistent interaction with a patient, stimulating all five senses. Patients also may experience mood swings, anxiety, personality disorders and decreased inhibitions. Our team treats these emotional and behavioral problems with counseling, medication, positive reinforcement and psychiatric consultation. 
Activities of Daily Living.  Learning how to meet daily needs is an essential part of rehabilitation following a brain injury. Through individual and group treatment programs, we help patients re-learn and accomplish daily tasks related to self-care (i.e. dressing, eating, bathing and toileting), home management and driving. We can also assess home, work and school sites and recommend modifications and assistive equipment. 
Mobility. Brain injury patients participate in exercise programs designed to promote nerve conduction, strengthen intact muscles, maintain or gain mobility and build confidence to perform functional activities. Our team also works with patients on maintaining general positioning for improved alignment, preventing complications due to immobility. 
Respiratory Function. Our respiratory therapists  evaluate, treat and care for  brain injury patients with breathing problems or other cardiopulmonary disorders. They offer a unique respiratory rehabilitation program to help improve a patient's overall pulmonary function and provide a skilled program for ventilator-dependent patients. 
Communication/Cognition. Speech therapists evaluate skills related to listening, thinking, speaking, reading and writing and work with the patient and family to develop the most effective communication system possible. This may include guidance in selecting assistive communication devices.
Spasticity Management. Our nationally recognized spasticity management program helps patients overcome disabling muscle spasms and stiffness through a variety of advanced treatments. These include Botox injections, intrathecal Baclofen therapy (also known as Baclofen pump, an implantable device that delivers anti-spasmodic medication directly into the spinal fluid).
Nutrition/Swallowing. Brain injury patients often suffer from swallowing problems known as dysphagia. Dysphagia is diagnosed using a swallowing study and treated in one-on-one therapy and in special feeding groups. We also manage feeding tubes.
Skin Health. Our team implements a customized skin care program for each patient that includes education on how to prevent pressure ulcers.
Adjustment Issues. Through education and counseling sessions, we help both patients and family members understand the consequences of a brain injury and how to adjust to changes related to roles, relationships and responsibilities. We also encourage participation in brain injury support groups. 
Community Reintegration. Since our goal is to return brain injury patients to their home, work, school and community, our treatment plans include a comprehensive discharge plan that prepares the patient for life after rehabilitation. To provide continuity of care, we also prescribe a follow-up program that may include therapy at Methodist Rehabilitation Center's Outpatient Services and Quest, Mississippi's only comprehensive outpatient program designed to help brain-injured patients return to school, work or community life.
Recreation. Through a variety of planned leisure activities, we give patients an opportunity to explore their capabilities in social and community settings. Our therapeutic recreation program also sponsors frequent sports clinics and several sports teams, including quad rugby, wheelchair fencing, boccia ball and handcycling.
What Sets Us Apart?
Brain Injury patients are treated by staff that specialize in brain injury care.
Brain injury patients are treated in a therapy gym dedicated solely to brain injury care.
Brain Injury patients have opportunities to participate in and benefit from clinical trials and other research through the hospital's Center for Neuroscience and Neurological Recovery. They also can take advantage of our nationally recognized spasticity management program. 
Brain Injury patients are able to participate in therapeutic recreation programs and community reintegration activities. 
Brain Injury patients have priority access to our three accessible apartment complexes and our long-term, residential care facility. 
Brain Injury patients have access to specialized clinics that offer evaluations and guidance for the selection of wheelchairs, environmental control units, adaptive computer equipment and other assistive technology. 
Brain Injury patients can be evaluated in the hospital's Motion Analysis Laboratory, one of only a few in the nation that tests patients who have suffered brain injuries, spinal cord injuries or stroke. 
Brain Injury patients have access to treadmill gait training, a therapy that has helped many patients make significant gains in their walking ability. 
Brain Injury patients benefit from the staff's knowledge of innovative rehab technologies, including electrical stimulation devices designed to address foot drop, hand weakness and swallowing disorders. 
Brain Injury patients have access to lifelong care through an extensive network of outpatient clinics and community services.
Contact Us