Proven Orthopedic and Neurologic Rehabilitation Expertise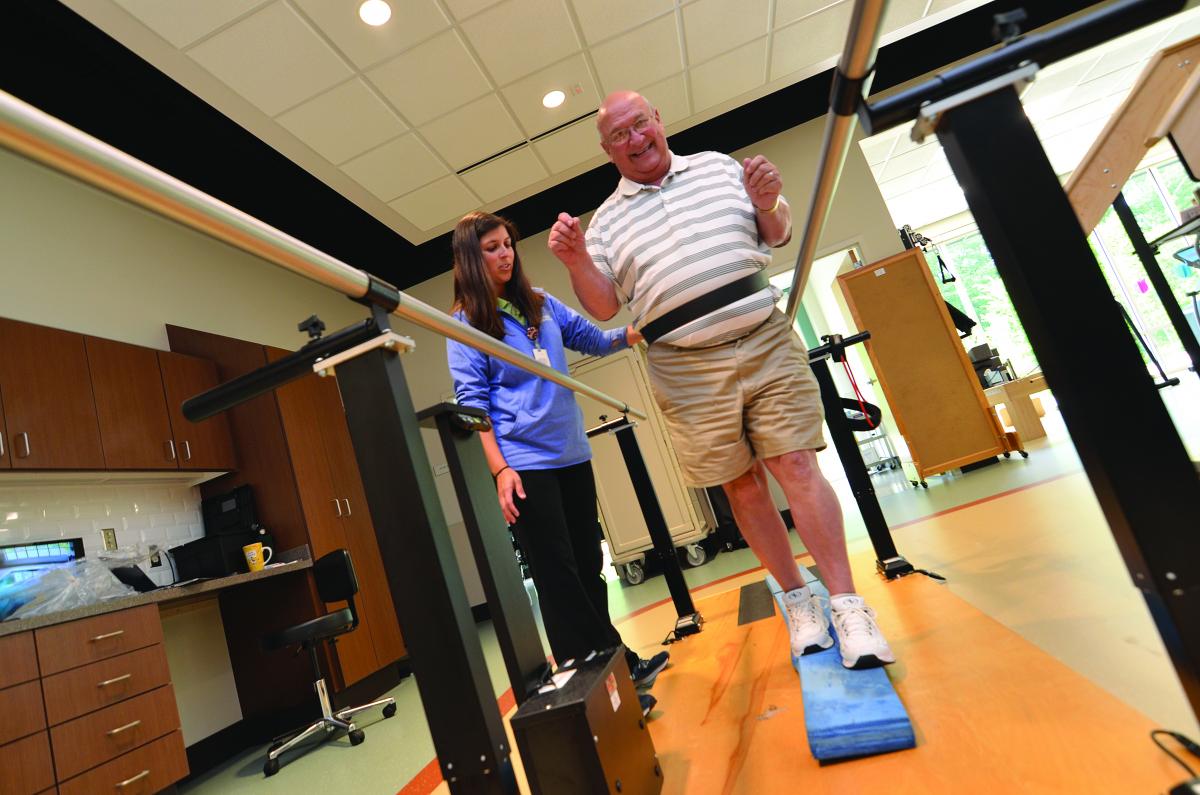 Through Methodist Rehabilitation Center Outpatient Services, our team of physical, occupational and speech therapists offers comprehensive orthopedic and neurologic services at two locations in the metro Jackson area.
Our main 25,000-square foot facility in Flowood features separate therapy gyms for orthopedic and neurological rehabilitation and dedicated therapists who specialize in each area. Methodist Physical Medicine is also located in the building. In Ridgeland, our new 12,300-square foot facility offers orthopedic and neurological rehabilitation.
Orthopedic Rehabilitation
MRC staff is highly skilled in manual therapy, soft tissue mobilization, and myofascial release techniques to correct postural disorders, address soft tissue restrictions and pain. Patient education and therapeutic exercise are emphasized.
We provide orthopedic specialty treatment for:
Neck and Back Pain
Sprains & Strains
Sports Injuries
Total Joint Replacement
Fibromyalgia
Chronic Pain
Myofascial Pain Syndrome (MFPS)
Sacro-Iliac Joint Dysfunctions
Scoliosis
Osteoporosis
Specialty Services
Aquatic Therapy
Myofascial Release
Low-level Laser Therapy
AlphaStim for Chronic Pain
Rebuilder Electrical Stimulation for Neuropathy
Alter-G Antigravity Treadmill for Physical Therapy Rehabilitation
Neurologic Rehabilitation
Specializing in treating clients with neurological impairments, amputations and general deconditioning, our neurological rehabilitation team strives to be the leader in this area with therapists specially trained in the latest advances in the field.
Neurological Specialty Services:
Spinal Cord Injury Rehabilitation
Brain Injury Rehabilitation
Stroke Rehabilitation
Neurological Rehabilitation (ALS, MS, GBS, Parkinson's Disease, etc.)
Vestibular Rehabilitation
Balance Training/Fall Prevention
Parkinson's Treatment: Lee Silverman Voice Technique (LSVT) LOUD for Voice Amplification and BIG for Movement Impairments
Speech Therapy Services

— VitalStim®
— Swallowing Disorders
— Augmentative Communication

Amputee Training
Driving Evaluations/ Adaptive Training
Low Vision Training
Aquatic Therapy
Bioness L300 and H200 Neuroprosthetic device/ training
Functional Electrical Stimulation Cycling Bike for Upper and Lower Extremities
Wheelchair Seating
Contact Us
Methodist Outpatient Rehabilitation Center | East Campus
One Layfair Drive | Flowood | 601-936-8888 
Joe Jacobson, PT, DPT, OCS is the Orthopedic Rehabilitation Therapy Manager 
Shonda Sifford, Office Coordinator 
 
One Layfair Drive | Flowood | 601-936-8889 
Lisa Indest, PT, Neurological Rehabilitation Therapy Manager 
Melissa Jones, Office Coordinator
Methodist Outpatient Rehabilitation Center | Ridgeland
102 S. Perkins St. | Ridgeland | 601-984-8700 
Elizabeth Rich, PT,  Therapy Manager