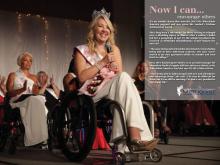 It's no wonder Karen Roy won the 2019 Ms. Wheelchair America pageant and was given the contest's Lifetime Achievement Award.
She's long been a role model for those seeking to triumph over a disabling injury or illness. After a robber's bullet left her a paraplegic at age 19, the unique treatment she received at Methodist Rehabilitation Center helped her succeed.
"I became independent from the wheelchair level, including being able to drive with hand controls," she said. "And I moved to my own apartment within six months and went back to college."
Now, she's balancing her duties as an account manager for Numotion Medical Supply with her advocacy efforts as Ms. Wheelchair America. And she says it's all a labor of love.
"I love being able to talk to people with new and old injuries and encourage them," she said. "Life may be different for them, but it can still be amazing. I've had a very productive and happy life."