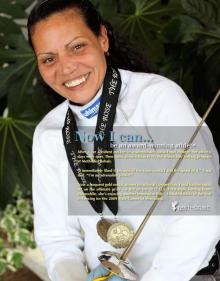 After a car accident put her in a wheelchair, Sonia Fogal thought her athletic days were over. Then came an invitation to try the wheelchair fencing program at Methodist Rehab.
"I immediately liked it because of the close contact and the speed of it," Fogal said. "I'm an adrenaline junkie!"
Now a frequent gold medal winner in national competition, Fogal has her sights set on the ultimate prize – a slot on the 2012 U.S. Paralympic fencing team. Meanwhile, she's enjoying another impressive title – Female Athlete of the Year in Fencing for the 2009 State Games of Mississippi.

Download Poster