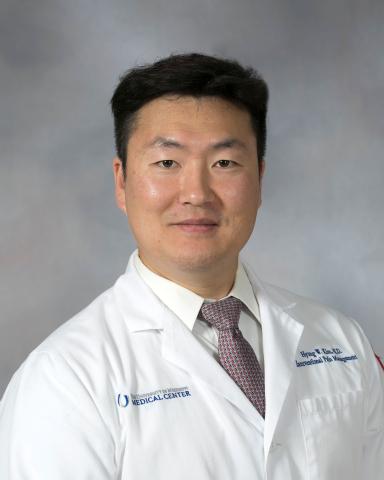 Hyung Kim, M.D.
Dr. Hyung Kim is an admitting attending physician at Methodist Rehabilitation Center. He also serves as Chief of the Division of Physical Medicine and Rehabilitation in the Department of Neurosurgery at the University of Mississippi Medical Center (UMMC) as well as an assistant professor of neurosurgery, and is a member of the Neuroscience Institute at UMMC.
Dr. Kim earned his medical degree at Texas Tech University before serving an internship at the National Naval Medical Center in Bethesda, Md.  He was a Navy General Medical Officer for five years, spending time with Special Boat Team – 22 in Mississippi as the Medical Department Head and as the Survival, Evasion, Resistance, and Escape (SERE) School Medical Officer in San Diego, Calif. 
After his initial tour with the Navy, Dr. Kim completed his residency training in physical medicine & rehabilitation at Carolinas Rehabilitation Center in Charlotte, N.C.  He then returned to the Navy for an additional two years, deploying to Afghanistan in support of Operation Enduring Freedom and returning to work  at the Walter Reed National Military Medical Center.  He also served as the medical director of the outpatient clinic and the traumatic brain injury clinic.
Dr. Kim came to UMMC in 2013 to complete a fellowship in interventional pain medicine and is board-certified in physical medicine & rehabilitation and pain medicine.  He currently splits time working with veterans at the G.V. (Sonny) Montgomery VA Medical Center in addition to his responsibilities at Methodist Rehabilitation Center.  Along with his interventional pain skills, he is also certified in acupuncture for musculoskeletal pain and uses a wide variety of tools to help patients manage chronic pain.
Areas of Expertise:
Amputation
Brain Injury
Neurological Disease
Orthopedics
Pain Management
Spinal Cord Injury
Stroke