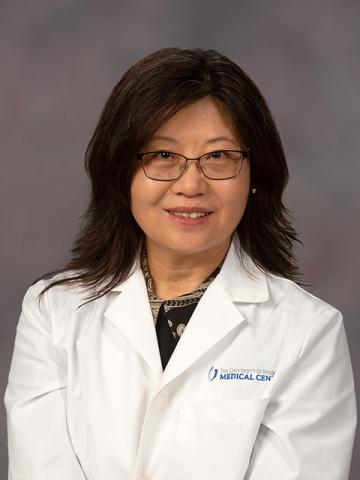 Dr. Joan Hou is a brain injury specialist on the staff of Methodist Rehabilitation Center and a member of the Division of Physical Medicine and Rehabilitation staff at the University of Mississippi Medical Center.
Hou is double board-certified in Physical Medicine and Rehabilitation (PM&R) and Brain Injury Medicine. Before coming to Mississippi, Hou's positions included staff physician at Lakeland Regional Health Hospital in Lakeland, Fla., medical director and staff physician at St. Vincent Rehabilitation Institute in Evansville, Ind. and staff physician in the Department of PM&R at Hennepin County Medical Center in Minneapolis, Minn.
Hou received her medical degree from the Peking Union Medical University and Shanxi Medical University in China. She also earned a master of science degree in Medical Microbiology and Infectious Diseases from the University of Alberta in Edmonton, Canada.
Hou did her PM&R residency at Kingsbrook Jewish Medical Center in Brooklyn, N.Y. and a fellowship in Traumatic Brain Injury/Polytrauma at Hunter Holmes McGuire Veteran's Administration Medical Center/Virginia Commonwealth University.
Hou is a member of the American Academy of Physical Medicine and Rehabilitation and the Association of Academic Neurologists.