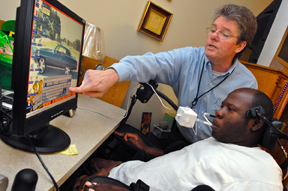 George Gober, left, coordinator of the Adaptive Computing Lab at Methodist Rehabilitation Center, helps disabled computer users like Tony Watts of Flowood find the right equipment and software to fit their needs. The extensive assistive technology services at Methodist Rehab were among the programs highlighted as exemplary during a recent accreditation survey by CARF International.
Methodist Rehabilitation Center recently became the only hospital in Mississippi to receive specialty accreditation for brain and spinal injury rehabilitation and one of only six with specialty accreditation in stroke rehab.
The Jackson hospital received the three-year accreditation from CARF International, an independent, non-profit organization that has been measuring the quality of medical rehab programs since 1966.
"While we've been CARF-accredited since 1992, we believe this latest stamp of approval reflects our unique expertise," said Mark Adams, chief executive officer of Methodist Rehab. "We earned accreditations in all three of our specialty programs – both inpatient and outpatient – because we've built an in-depth program that focuses on the lifelong health care needs of people with disabling injuries or illness."
In its survey report, CARF highlighted several "exemplary" services, including the hospital's patient-focused research projects, extensive assistive technology resources and adaptive sports programs.
"At traditional hospitals, you're not likely to find a dedicated rehabilitation research program integrated into clinical services, support for a wheelchair fencing program and other adaptive sports, or a place where you can get a hands-on demonstration of the latest adaptive technology for computer users who are paralyzed," Adams said. "But at Methodist Rehab, such programs are a natural progression of our commitment to the community and patients we serve."
To learn more about Methodist Rehab, call 601-364-3434 or visit methodistonline.org.