Health and Research News Service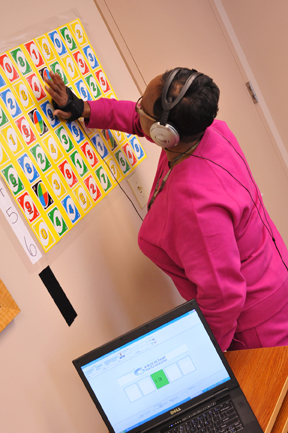 Stroke survivor Elnora Coates of Jackson works to synchronize physical and cognitive exercises to a computer-generated beat during Interactive Metronome (IM) training. The innovative therapy is available at Quest, a Methodist Rehabilitation Center outpatient program for people with brain injuries. Quest occupational therapist Lisa Poe said the challenging activity helps strengthen motor skills and many neurological functions related to planning, organizing and language.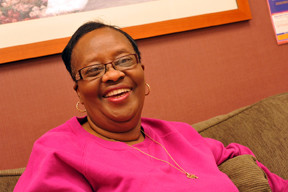 After a stroke paralyzed her right side, Elnora Coates had to put her go-getter lifestyle on hold. But thanks in part to Interactive Metronome training at Methodist Rehabilitation Center, Coates is almost back to all her go-getter ways.
The steady beat of a metronome typically calls to mind memories of piano lessons.
But when Elnora Coates of Jackson hears the tireless tempo, she thinks of how far she has come since a 2009 stroke paralyzed her right side. Thanks in part to Interactive Metronome (IM) training, the 62-year-old is almost back to being the woman who "never sat still."
"At first, I couldn't do anything for myself," said the former teacher's assistant for the Vicksburg-Warren County schools. "But I would say I'm 95 percent recovered right now."
Coates was introduced to the innovative therapy at Quest, a Methodist Rehabilitation Center outpatient program in Jackson. Methodist Rehab has six therapists specially trained in IM, a therapy that fosters improvements in attention, motor planning and sequencing.
Quest occupational therapist Lisa Poe said the challenging activity helps strengthen motor skills and many neurological functions related to planning, organizing and language. Typical candidates include people with traumatic brain injury, stroke, Parkinson's disease, multiple sclerosis, incomplete spinal cord injury, balance disorders, limb amputations or developmental disorders.
During the therapy, patients wear headphones and listen to the rhythmic clang of a computer-generated cowbell. As they strive to synchronize hand and/or foot exercises to the tempo, they receive auditory and visual feedback. The IM hard drive records their success rate in milliseconds, during and at the end of each task.
"It was real difficult at first, but I was motivated," Coates said. "After about a week or two, I was getting the hang of it. Then I started doing things at home without even noticing it – like holding a spoon or grasping things."
At Quest, therapists look for ways IM therapy might expand a client's capabilities. And Poe felt confident it would help Coates improve her fine motor skills. Despite months of traditional occupational and physical therapy, Coates still struggled to use her right hand effectively. "I couldn't grasp a fork and spoon. I couldn't wash dishes. I couldn't tie my shoes," she said.
Worse still, Coates is a diabetic who couldn't give herself insulin shots because she lacked the ability to pick up needles and load the syringe. So Poe created several IM exercises where Coates could simulate hand movements that she needed to master.
"She would squeeze the metronome trigger with her thumb, forefinger and middle finger to fine-tune her three-point pinch," Poe said. "At the end of the second week of training, she was able to give herself the insulin shots."
By utilizing a special "Gait-Mate" sensor in her shoe, Coates also underwent IM training to improve her walking ability.
"She wore wireless headphones and walked to the beat of the reference tone with the guide sounds," explained Quest physical therapist Rachel Dear. "I've noticed it has helped her with her symmetry and timing. She spends equal time on both her legs, rather than avoiding putting weight on her affected side. The metronome has helped her discontinue use of her cane more confidently."
Yashica Brown, a special education teacher at McLeod Elementary in Jackson, said she had to laugh when she learned about her mother's new therapy. "My mom doesn't have any rhythm," she said. "But she is getting it right (with the metronome). That's a first. And she is on the beat with everything at church."
Brown said she has enjoyed watching her mother reclaim her go-getter ways. "She gave her testimony in church, and she is now ushering. I'm proud of her. I've seen her walk on uneven ground, be able to stand for long periods of time, and she is opening and closing doors with that right hand."
Coates also has a job at Good Shepherd Community Center in Vicksburg. And she's looking forward to getting back in the driver's seat so she can run her own errands and meet up with her card-playing pals.
But the best sign that she's almost back to her old self? Brown says it was the spread of food her mom prepared for the holidays. "Last year, she was still sitting in the kitchen and she would tell us what to do, but she was a little frustrated. This time she cooked everything for Thanksgiving and Christmas, and I don't' think there is anything she can't cook. She has started fussing and ordering us around, and we said: Momma's back."
For more information on Interactive Metronome training, call Susan Geiger at 601-936-8888.