Health and Research News Service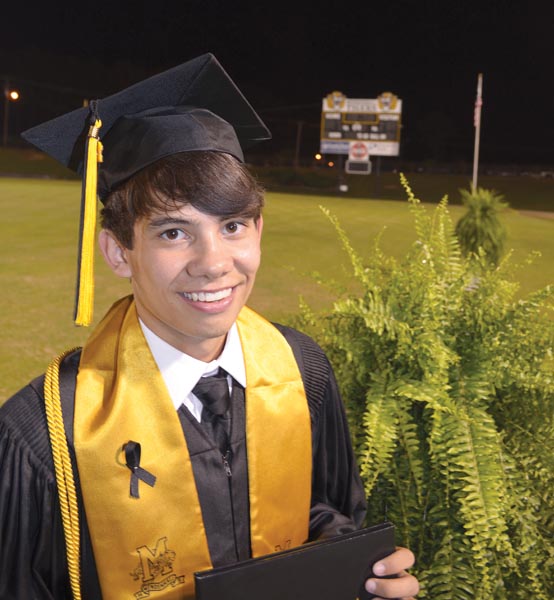 Michael Shelby.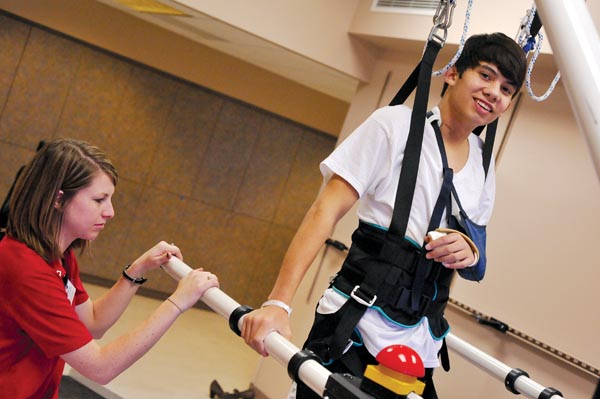 Michael Shelby, pictured here with spinal cord injury physical therapist Ann Howard, greatly benefited from using the weight-supporting treadmill system both during his stay at Methodist Rehab and after discharge.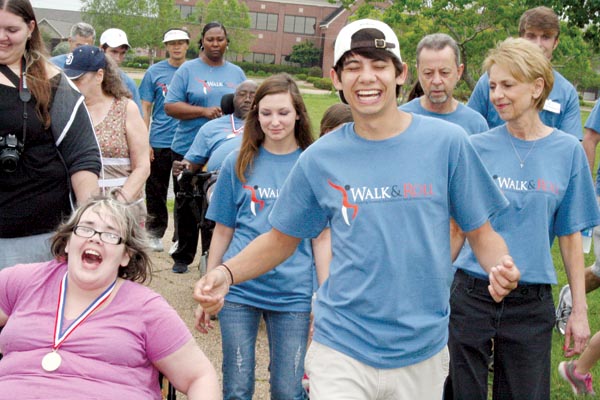 Michael Shelby participated in the Walk & Roll, an event to raise funds for the Wilson Research Foundation that is held in the spring.
Mendenhall High School senior Michael Shelby, like others in the graduating class of 2012, walked across the school's football field to receive his diploma on the night of May 14.
Granted, high school graduation is a joyous occasion—a remarkable milestone, a life-changing event to be remembered. But for Shelby, it was much more than that.
What made Shelby's graduation exceptional is a simple act many take for granted. He did what just a little over a year ago he was told he might never do again—he walked.

"Going to Walk Out of There"
On Feb. 9, 2011, in Biloxi, Shelby fell during a tumbling routine and broke his neck.
After being admitted to the University of South Alabama Medical Center, his initial prognosis was not promising.
"I was told after I got out of surgery that I would never, ever walk again—I would never move again, probably," Shelby said.
It appeared that he had sustained a C5-C6 incomplete spinal cord injury, cervical level damage, which often results in complete paralysis below the neck.
All signs pointed to the possibility that Shelby might have to come to terms with spending the rest of his life in a wheelchair.
He then came to Methodist Rehabilitation Center, a hospital that is by all means equipped to prepare him for such a life.
But Methodist Rehab offers much more—a full range of therapies and rehab technology and an expert staff that come together to allow every patient to achieve their fullest potential.
And Shelby came convinced his potential was greater than what he had been told. He insisted that he would "prove everybody wrong."
 "I said I'm going to do something you've never seen before," he said.  "I told them I was going to walk out of there."

A Methodist Rehab "Graduate"
Graduation is often a symbolic rite of passage, representative of the culmination of hard work, perseverance and self-discovery, of goals met and oftentimes exceeded.
It is fitting then that those who are discharged from Methodist Rehab are often referred to as "graduates."
For Shelby, that day came on March 17, 2011, a little over a month after he first checked in. And it was a day that Shelby made good on his earlier promise.
"Sure enough, the day I got discharged—it was hard and my walking wasn't good—but I got to walk out of there," Shelby said.
To fast-forward from Shelby's accident and being told he might never walk again to his walking with the assistance of a walker out the doors of Methodist Rehab a little over a month later makes his story seem all the more incredible, miraculous even.
But to gloss over that month of his life is like ignoring the exams taken, papers written and long hours of studying on a student's path to graduation. That month is the heart of Michael's story.
It's an equally incredible tale of hard work, perseverance and self-discovery, of goals met and oftentimes exceeded, not just by Shelby but also his dedicated caregivers at Methodist Rehab.

"The Unconventional Way"
"At first, he wasn't moving anything at all, maybe a little bit in his right leg," said Ann Howard, who served as his physical therapist during his stay at Methodist Rehab.
Determined as Shelby was to walk again, it did not appear fulfilling his bold promise was even possible. But the patient was eager to do whatever his caregivers asked of him.
"He did have the days where he was upset, and not wanting to come to therapy, but overall he was willing to do whatever he could," Howard said.
Shelby's therapists might have focused on preparing him for life in a wheelchair, had he not agreed to participate in a research study conducted by Methodist Rehab's Research Department, which is headed by Dr. Dobrivoje Stokic.
"In the conventional way, his results weren't looking promising, but once we had done it in an unconventional way, it turned out he was somebody very much like patients who recover," Stokic said.
That "unconventional way" was "a study in which the objective was to find out other ways of predicting who is going to recover walking, and to what extent," Stokic said. "With the information from our research, Michael looked like somebody who had a whole lot more potential than what he initially presented."
In other words, Shelby possessed the potential for exceptional recovery, but had he not come to Methodist Rehab where they have the tools and expertise to recognize that potential—in this case, Dr. Stokic's research—his recovery would not have been nearly as speedy.
"Let's not kid ourselves," Stokic said. "Michael would have walked either way, he would have walked maybe six months or more later, but by now he would definitely be ambulatory and walking. Most likely, Methodist Rehab accelerated his recovery.
"The whole story is that Methodist Rehab allows people to realize their full potential because of the scope of services that are integrated into patient care."
Now that the median length of inpatient rehab is about a third of what it was 30 years ago, it's all the more crucial for early assessment to optimize that window of time.
"If you have five weeks of time, then you have to prioritize," Stokic said. "Are you going to focus your efforts on learning how to improve transfer and wheelchair driving skills, or does it make more sense to put him through some exercises that are geared specifically to recovery of walking?"
Once his potential had been recognized, Shelby's therapy then became focused on walking.
"We were really focusing on trying to get more back because we knew he had the connections remaining in the spinal cord," Howard said. "A lot of times we just have to work with what they have or use compensatory techniques rather than try to get motor recovery."
"Timing is critical because the extent of recovery depends on time," Stokic said. "The faster you start improving, the further you go."
A Perfect Storm
Therapy at Methodist Rehab is guided in part by the patient's abilities. Therapists like Howard focus the patient on strengthening what they have.
"We have a broad range of therapeutic options that patients are fitted into depending on their capacity," Stokic said.
With Shelby, that capacity was something that literally changed day to day.
"I think what was neat about his progress here was that each day he regained ability to move a new muscle, and we were able to use a new piece of equipment that we have, or a new treatment technique," Howard said.
Since Shelby was only able to move his right leg, Howard put him to work on the functional electrical stimulation (FES) bike first.
"When he first got here, we used the bike to stimulate the muscles on both legs, but then his right leg got so much stronger that we just focused on the left leg," Howard said.
As its high tech-sounding name suggests, the FES bike isn't just your garden-variety exercise bike.
Howard explains: "The bike stimulates the muscles at the right time they're supposed to be used. It's connected to a computer, and you set it for the patient's specific diagnosis. You can control the speed and how much stimulation they're getting—the more a patient can pedal the bike by themselves, the less stimulation they need."
Another device that aided greatly in Shelby's therapy was the standing frame, which allows patients who may not be able to stand on their own to maintain a standing position. Howard says this device is beneficial because it puts weight on the patient's bones, stimulates their muscles, helps stretch out their legs, and aids in bowel, bladder and respiratory functions.
"In therapy, in between breaks from working on his legs, we didn't just sit there," Howard said. "We worked on his trunk control in-between. That way he was getting the most out of therapy as possible. Being so young, he didn't require as much rest as some patients do."
But Howard, Stokic and Shelby all agree that the weight-supporting treadmill system helped his recovery the most.
"A system like the treadmill allows patients and their therapists to utilize their time more efficiently," Stokic said. "They get more activity in the spinal cord by making many more steps than they can do over ground. It's more efficient, safer and easier for patients."
The weight-supporting treadmill system is a therapy that has helped many patients make significant gains in their walking ability. While the treadmill's harness, pulleys and pneumatic system support the patient's weight, therapists can assist the person with a stepping motion.
"I did that even after I finished outpatient," Shelby said. "I will still come do the treadmill at least twice a week. That's what really got me started. After I got on that treadmill, things started coming back real quick. The treadmill was one thing that I saw helped the best."
In many ways, Shelby's story is a perfect storm of rehab success.
Research's expert assessment of Shelby's potential allowed him to be paired with the proper therapies and technologies, which, coupled with the dedication and guidance of his therapists as well as his own determination, aligned to make his recovery one of the most dramatic some hospital staff had ever seen.
"I think he made a tremendously speedy recovery that I haven't seen, maybe even in my lifetime, considering the state he came in and how far he went," said Stokic, who has been at Methodist Rehab since 1997.
Howard, on the other hand, was only on Methodist Rehab's staff for a few months before she worked with Shelby.
"I didn't realize until later just how exceptional he really was," she said, laughing.

"He Lights Up the Room"
If you were to meet Shelby today, you might be convinced this story were about someone else. You cannot tell he had suffered such a trauma by looking at him. He walks naturally and seemingly effortlessly, with the youthful confidence many young men of his age exude.
"I think he still does have some sensory deficits—like not being able to feel everything—but you could never tell that by the way he's able to walk and move around," Howard said.
Speak to him and he'll be glad to share his incredible story, colored by his infectiously sunny disposition and boundless optimism that some might even call swagger.
"He's not shy at all," Howard said. "He lights up the room."
Shelby's experiences at Methodist Rehab, much like a student's educational odyssey, have led him toward much self-discovery.
"Being here, and having to go through what I went through, it was just a really good experience," he said. "In some ways I wish it wouldn't have happened but I'm glad it did because it made me better, it got me closer with God. It got me closer with my parents."
It's also led him to answer that question many graduates struggle with: What do I want to do with my life?
For him, the answer is to pursue a career in physical therapy.
His first step down this path was choosing to do his senior project on the profession.
"When I found out I had to do a senior project, I knew I wanted to do it on physical therapy," Shelby said. "And I knew it had to be with Methodist, because I had a great experience there. I know a lot of the people, I know how they work, and it's a great facility."
Shelby then asked Howard to serve as his mentor for the project.
"I was very honored that he asked me," she said. "It was very neat for him to want to give back to what had helped him so much."
And for the fund-raising portion of his senior project, Shelby chose the Walk & Roll, Methodist Rehab's annual fund-raising event for the Wilson Research Foundation, which was held on March 31, 2012.
"I was talking to Ann about needing a tangible product for my project to raise money," Shelby said. "She told me about the Walk & Roll. I thought that would be a lot cooler, to be able to participate and help out."
Shelby walked in the event and helped raise funds for the foundation. Now, he is in his first semester at Copiah-Lincoln Community College. After that, he hopes to go to four-year college, and eventually settle into a career in physical therapy.
"Maybe I can get a job at Methodist," Shelby said.
Howard believes Shelby's unique perspective would allow him to excel in the profession.
"He can not only sympathize with the patients, like we do, but he can also empathize," she said. "Because he's been there. He knows the good, bad and ugly of what it's like in therapy."
In fact, she already got a glimpse of Shelby's potential when he came back to Methodist Rehab to work on his senior project.
"I had a patient that was 13 years old at the time and Michael came up here and was very encouraging and motivational to that patient … my patient at the time just completely changed his whole attitude after seeing the progress that Michael had made," she said.
Stokic agrees that Shelby could have a bright future in the profession, adding that sometimes compassion can be more critical in the early stages of rehab than any skill learned in school.
"It's inspirational for us as well, when you see someone like Michael who decides to go back and pursue a physical therapy career, and we were the people to sway him in that direction," Stokic said.  "It inspires us to continue to do what we do."

For more information on Methodist Rehab's spinal cord injury program, call 601-364-3498.