Health and Research News Service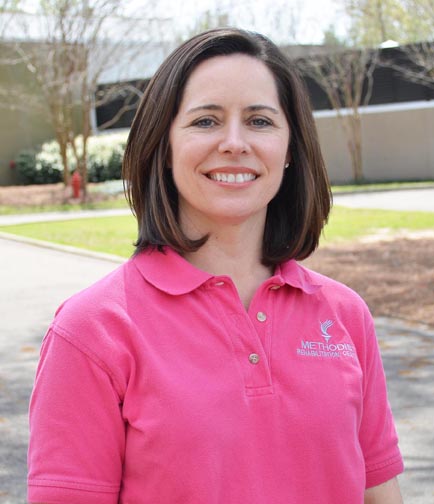 Methodist Rehab physical therapist and manager of outpatient growth and development Susan Geiger.
The National Multiple Sclerosis Society's Alabama-Mississippi Chapter has selected Susan Geiger of Jackson as its 2012 Health Professional of the Year.
"I was pleasantly surprised to receive this very unexpected honor," said Geiger, a physical therapist at Methodist Rehabilitation Center's Outpatient Therapy Clinic in Flowood.
Geiger has served on the local community board of the National MS Society for almost five years and serves on the National MS Society Clinical Advisory Committee. This past year, she began an 8-week "Free from Falls" program for persons living with MS. She also volunteers numerous hours for chapter fundraising events such as Walk MS.
"The vision of the National MS Society is to have an efficient and high-quality health care system to serve those living with MS that is equitable, accessible and affordable," said chapter president Jan Bell. "This award works towards the realization of this goal by inspiring health practitioners who are working diligently to be resourceful and innovative in meeting the existing challenges of providing quality health care to persons with multiple sclerosis in Mississippi.
Geiger holds a Bachelor of Science in mathematics from Mississippi State University, a Bachelor of Science in physical therapy from The University of Mississippi School of Health-Related Professions and a Master of Business Administration from Millsaps College. At Methodist Rehab, Geiger serves as the manager of outpatient growth and development and maintains a clinical practice emphasizing balance and vestibular rehabilitation.