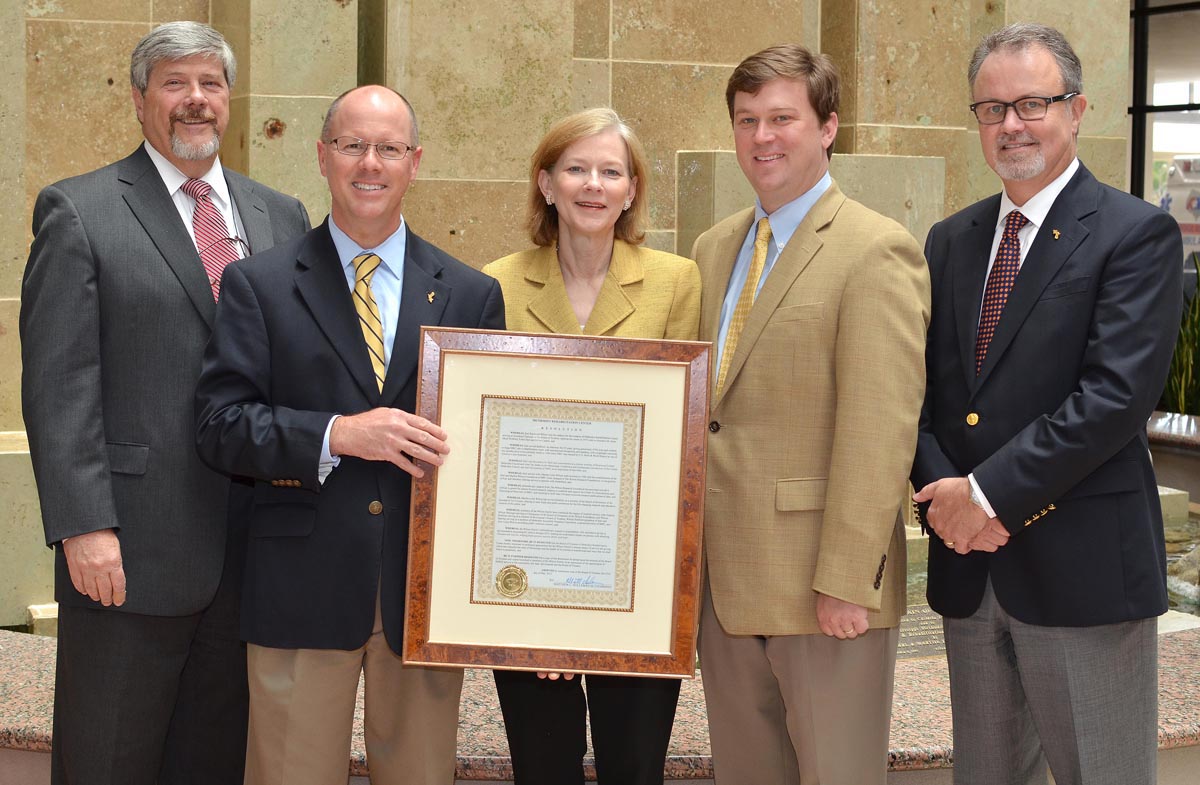 Presenting a framed resolution to honor the family of the late Earl R. Wilson: from left, Matthew Holleman III, chairman of the MRC Board of Trustees; Chris Blount, director of the Wilson Research Foundation; Ann Wilson Holifield; Wilson Holifield; and Mark Adams, president and CEO of MRC.
Boutonnieres aren't usually worn for meetings of the Methodist Rehabilitation Center Board of Trustees.
But as the group recently gathered to recognize $1 million in cumulative giving to the Wilson Research Foundation at MRC, board members pinned on fresh rosebuds.
The gesture was a sentimental salute to the late Earl. R. Wilson, one of the founders of MRC and the patriarch of a family whose gifts totaling $1 million have helped sustain the foundation that bears his name.  
"Mrs. Wilson loves to tell the story of why Mr. Wilson wore a fresh rosebud on his lapel," explained Chris Blount, director of the foundation.  "Following a heart attack, the doctor had warned him that he needed to stop and smell the roses. And his response was: 'I will smell the roses, but I'm not stopping.'"
Wilson was the catalyst for the creation of Methodist Rehabilitation Center.  And when the Jackson hospital opened in 1975, Wilson began 25 years of service as board chairman.
"Earl was Methodist Rehab Center's heart and soul, a wonderful mentor to all of us and a very hands-on chairman who invested countless hours to help us grow into a recognized center of excellence," said Mark Adams, president and CEO of Methodist Rehab.
Two months before Wilson's death in 2000, the hospital was named one of America's best by U.S. News & World Reports, a source of immense pride for the Jackson businessman, said his family.
In the years since, Wilson's family has continued his legacy. His widow, Martha Lyles Wilson of Madison, serves on the foundation board. Daughter Ginny Wilson Mounger of Jackson is chairperson of the foundation board. Daughter Ann Wilson Holifield of Ridgeland is a trustee of the hospital. Daughter Amy Lyles Wilson of Nashville, Tenn., volunteers public relations counsel. And grandson Wilson Holifield of Birmingham, Ala. is a member of Methodist Accessible Housing Corporation, a sponsored entity of MRC. 
All have also contributed generous financial support, resulting in the board's May 23 resolution honoring their "unprecedented service and philanthropy."
"This is among the most remarkable philanthropic legacies in Mississippi," Blount said. "The Wilson family has led the way to build a thriving, patient-focused research program which results in innovative therapies and improved care of our patients." 
Established in 1988 with a seed gift from the H.F. McCarty, Jr. family, the nonprofit Wilson Research Foundation has provided nearly $5 million in grants for clinical research studies, all from local philanthropic gifts.  And the research scientists at Methodist have brought in an additional $8 million in government and industry research dollars, achieving 230 peer-reviewed publications to date. 
Still, there's much left to accomplish and Blount hopes the Wilsons' example will inspire others to contribute to a $3 million campaign to fund research, technology and education programs to help the thousands of people with disabilities both here at home and across the world.
"Research-based care helps our patients recover more abilities, and it  has a global impact through our publications. This is a cause that truly changes lives," Blount said.